Oct 14, 2018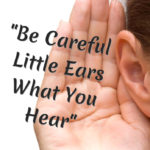 Listen Carefully
Listen Carefully
Colossians 2:8-14 NASB
"
8 See to it that no one takes you captive through philosophy and empty deception, according to the tradition of men, according to the elementary principles of the world, [a]rather than according to Christ.
9 For in Him all the fullness of Deity dwells in bodily form,
10 and in Him you have been made [b]complete, and He is the head [c]over all rule and authority;
11 and in Him you were also circumcised with a circumcision made without hands, in the removal of the body of the flesh by the circumcision of Christ;
12 having been buried with Him in baptism, in which you were also raised up with Him through faith in the working of God, who raised Him from the dead.
13 When you were dead [d]in your transgressions and the uncircumcision of your flesh, He made you alive together with Him, having forgiven us all our transgressions,
14 having canceled out the certificate of debt consisting of decrees against us, which was hostile to us; and He has taken it out of the way, having nailed it to the cross."
Paul cautions us to listen carefully. The little song we learned as children,
"Be careful little eyes what you see. Be careful little ears what you hear",
still holds true for us as adults. We need to guard our eyes as to what we view. We also need to guard our ears as to what we allow ourselves to listen to. When we apply ourselves diligently to studying God's Word and allow His Word to saturate our minds and spirit, the more fruit will be manifested in and through our lives. We reap what we sow. When we sow an abundance of God's Word into us, just think of the harvest we will have to share with others.
In Joshua 1:8, the Lord reminds the Israelites how vital meditating and obeying the Word of God was to their entire well-being.
We, as the Israelites, are commanded to meditate on God's Word. The benefits we derive: 1) We will be prosperous in every spiritual aspect of our lives 2) We are promised His peace, contentment, joy, and guidance
3) We will walk in His confidence, truth, and Wisdom
Watch
Notes
Download
Date
Title
Oct 14, 2018

Listen Carefully

Oct 14, 2018

Listen Carefully

Listen Carefully

Colossians 2:8-14 NASB

"

8 See to it that no one takes you captive through philosophy and empty deception, according to the tradition of men, according to the elementary principles of the world, [a]rather than according to Christ.9 For in Him all the fullness of Deity dwells in bodily form, 10 and in Him you have been made [b]complete, and He is the head [c]over all rule and authority; 11 and in Him you were also circumcised with a circumcision made without hands, in the removal of the body of the flesh by the circumcision of Christ; 12 having been buried with Him in baptism, in which you were also raised up with Him through faith in the working of God, who raised Him from the dead. 13 When you were dead [d]in your transgressions and the uncircumcision of your flesh, He made you alive together with Him, having forgiven us all our transgressions, 14 having canceled out the certificate of debt consisting of decrees against us, which was hostile to us; and He has taken it out of the way, having nailed it to the cross."

Paul cautions us to listen carefully. The little song we learned as children,

"Be careful little eyes what you see. Be careful little ears what you hear",

still holds true for us as adults. We need to guard our eyes as to what we view. We also need to guard our ears as to what we allow ourselves to listen to. When we apply ourselves diligently to studying God's Word and allow His Word to saturate our minds and spirit, the more fruit will be manifested in and through our lives. We reap what we sow. When we sow an abundance of God's Word into us, just think of the harvest we will have to share with others.

In Joshua 1:8, the Lord reminds the Israelites how vital meditating and obeying the Word of God was to their entire well-being.

We, as the Israelites, are commanded to meditate on God's Word. The benefits we derive: 1) We will be prosperous in every spiritual aspect of our lives 2) We are promised His peace, contentment, joy, and guidance

3) We will walk in His confidence, truth, and Wisdom

Oct 14, 2018

Heart Condition

Oct 14, 2018

Heart Condition

Heart Condition

We, as the church universal, have a heart condition. To address this condition, we first need to understand the biblical definition and description on the heart. As the image and likeness of God, people are animated subjectively from the core and throughout their being by that primary faculty of thought, affection, and will which the Bible calls the "heart." Unquestionably, of all the words that are crucial to biblical anthropology, the word 'heart' is by far the most important. The term possesses the nuance of "centrality" since it is used in the Scriptures to refer literally to the inner most part of things, including that of a tree (2 Sam. 18: 14), the sea (Exod. 15: 8; Psa. 46: 2; Jonah 2: 3), the heavens (Deut. 4: 11), and the earth (Matt. 12: 40). In a few texts, 'heart' contains physiological meaning and designates the actual organ which pumps blood (2 Sam. 18: 14; 2 Kings 9: 24; Psa. 37: 15; Jer. 4: 19), and can be strengthened by food and drink (Gen. 18: 5; Judg. 19: 5, 8; 1 Kings 21:7; Psa. 104: 15; Acts 14: 17; James 5: 5). The preponderance of biblical passages, however, speak of the 'heart' as the central, defining element of the human person.

The New Testament and the teaching of Jesus advance this perspective. The 150 or so uses of 'heart' from Matthew to Revelation demonstrate that it is "the main organ of psychic and spiritual life, the place in man at which God bears witness to himself, . . . the whole of the inner being of man in contrast to his external side, . . . the one center in man to which God turns, in which the religious life is rooted, which determines moral conduct." Indeed, according to various New Testament authors, the heart is the psychic center of human affections (Matt. 22: 37-39; John 14: 1, 27; 2 Cor. 2: 4), the source of the spiritual life (Acts 8: 21; Rom. 2: 29; 2 Cor. 3: 3), and the seat of the intellect and the will (Rom. 1: 21; 2 Cor. 9: 7; Heb. 4: 12). Jesus shares this point of view, teaching that the heart is the spiritual nucleus of the person about which life orbits. He affirms this anthropological reality in the Sermon on the Mount. There Jesus offers a warning about earthly and heavenly treasures as contrasting options for a person's basic pursuit in life. Terrestrial treasures, he says, are subject to corruption and theft, whereas celestial treasures possess eternal durability. The choice of either is all determinative, and for this reason Jesus associates it with that unifying faculty and hub of life, stating "for where your treasure is, there your heart will be also" (Matt. 6: 19-21; cf. Luke 12: 33-34).

Once one's treasure is identified, the heart will not be far behind. Neither will a particular way of life. Jesus knew that the kind of treasure occupying one's heart will manifest itself in practical ways through patterns of speech and conduct. He also employed a metaphor to communicate this point. In fact, he uses both "trees" and "treasures" in several gospel texts, including this one, to illustrate that out of the heart are the issues of life.

For there is no good tree which produces bad fruit, nor, on the other hand, a bad tree which produces good fruit. For each tree is known by its own fruit. For men do not gather figs from thorns, nor do they pick grapes from a briar bush. The good man out of the good treasure of his heart brings forth what is good; and the evil man out of the evil treasure brings forth what is evil; for his mouth speaks from that which fills his heart (Luke 6: 43-45; cf. Matt. 7: 17-20; 12: 33-35; 15: 18-20; Mark 7: 21-23).

"

Watch over your heart with all diligence, f

or from it flow the springs of life." Proverbs 4:23 NASB

Oct 7, 2018

THE Gospel

Oct 7, 2018

THE Gospel

The Power Of THE Gospel

Bro. Jimmy Wilson - OBC Homecoming 2018

2 Corinthians 4

New King James Version (NKJV)

The Light of Christ's Gospel

4 Therefore, since we have this ministry, as we have received mercy, we do not lose heart. 2 But we have renounced the hidden things of shame, not walking in craftiness nor handling the word of God deceitfully, but by manifestation of the truth commending ourselves to every man's conscience in the sight of God. 3 But even if our gospel is veiled, it is veiled to those who are perishing, 4 whose minds the god of this age has blinded, who do not believe, lest the light of the gospel of the glory of Christ, who is the image of God, should shine on them. 5 For we do not preach ourselves, but Christ Jesus the Lord, and ourselves your bondservants for Jesus' sake. 6 For it is the God who commanded light to shine out of darkness, who has shone in our hearts to give the light of the knowledge of the glory of God in the face of Jesus Christ.

Cast Down but Unconquered

7 But we have this treasure in earthen vessels, that the excellence of the power may be of God and not of us. 8 We are hard-pressed on every side, yet not crushed; we are perplexed, but not in despair; 9 persecuted, but not forsaken; struck down, but not destroyed— 10 always carrying about in the body the dying of the Lord Jesus, that the life of Jesus also may be manifested in our body. 11 For we who live are always delivered to death for Jesus' sake, that the life of Jesus also may be manifested in our mortal flesh. 12 So then death is working in us, but life in you. 13 And since we have the same spirit of faith, according to what is written,

"I believed and therefore I spoke,"

we also believe and therefore speak, 14 knowing that He who raised up the Lord Jesus will also raise us up with Jesus, and will present us with you. 15 For all things are for your sakes, that grace, having spread through the many, may cause thanksgiving to abound to the glory of God.

Seeing the Invisible

16 Therefore we do not lose heart. Even though our outward man is perishing, yet the inward man is being renewed day by day. 17 For our light affliction, which is but for a moment, is working for us a far more exceeding and eternal weight of glory, 18 while we do not look at the things which are seen, but at the things which are not seen. For the things which are seen are temporary, but the things which are not seen are eternal.

Sep 30, 2018

Strength

Sep 30, 2018

Strength

Strength

Do you ever feel perpetually weak? Sometimes every task seems insurmountable! Everything around you seems to be falling apart. Truly you can't see an end to your suffering. YOU ARE NOT ALONE!

Habakkuk 3:16 "

I heard and my inward parts trembled,

At the sound my lips quivered.

Decay enters my bones,

And in my place I tremble.

Because I must wait quietly for the day of distress,

For the people to arise who will invade us."

Today we are going to talk about a little known prophet of Judah named

Habakkuk.

He constantly lived in

fear

of invasion by the Babylonians. His prayers to God for help seemed to be answered with, "

Wait

". This made for a

terrible

time for Habakkuk. How do you feel when you are going through suffering and God seems to be answering your prayers with "

W

ait

"? Does it seem as if God is

distant

? Do you sometimes wonder why God is allowing your

suffering

? Perhaps, you are not sure you will make it

through

. Do you ever get

mad

with God?

Habakkuk 3:17-18 "

Though the fig tree should not blossom

And there be no fruit on the vines,

Though the yield of the olive should fail

And the fields produce no food,

Though the flock should be cut off from the fold

And there be no cattle in the stalls,

18 Yet I will exult in the

Lord

,

I will rejoice in the God of my salvation."

Despite how we struggle, God loves us, and He has a plan! The hard part is, sometimes, it is the struggle that is also our answer. It is when we go through the hard times that we learn to truly trust God completely. When we can handle things without God, trusting Him doesn't seem necessary. The reality is, that apart from God you can do nothing. (John 15:5) Unfortunately, it is the struggle that teaches us how to be strong in Christ.

Habakkuk 3:19 "The Lord G

od

is my strength, And He has made my feet like hinds' feet,

And makes me walk on my high places..."

He makes my feet like

hinds' feet

. Hinds' feet are what sheep develop in order to

climb

up the steep hills. If they never attempt the

difficult

climb, then they don't develop their hinds' feet, or leg strength. It is the difficult, steep hills that cause us to

strengthen

our walk with God, and allow us to get to the high places. Because God knows what will strengthen us, we can

rejoice

even in our struggles.

He is the God of Salvation!

Sep 23, 2018

Divine Intersections; Are You Ready?

Sep 23, 2018

Divine Intersections; Are You Ready?

Divine Intersections: Are You Ready?

Luke says,

"And the angel of the Lord spake unto Philip, saying, Arise, and go toward the south unto the way that goeth down from Jerusalem unto Gaza, which is desert."

Acts 8:26

Divine Intersections are Spirit led meetings that give us opportunity to be used in God's service for the advancement of His Kingdom. Men and women of God who had divine intersections accomplished most of the great works of the Bible. For instance, Philip was told that he should go down towards Gaza into the desert. At first, this is all the information the God gave to Philip and did not explain more. A very interesting point is that the Holy Spirit did not feel it necessary to explain His plans or purposes to Philip but simply expected complete and immediate obedience. It was only after Philip obeyed the first command of God that the Spirit spoke to him again and told him to join himself to the Ethiopian Eunuchs chariot.

Divine intersections often run contrary to natural reasoning

God was able to position Philip at the exact place to minister to the Ethiopian official because he obeyed immediately and without question. As the Eunuch was reading a prophetic passage in Isaiah Philip was there to share the message of salvation when he was open to hear it. Moreover, when Philip told him about water baptism they even happened to be passing by a small body of water (how often does that happen in the desert?) and the Eunuch was baptized in the name of Jesus.

Our Father carefully orchestrates divine intersections

This meeting was not a random set of events but rather a carefully orchestrated series of actions that led to a divine intersection of biblical proportions. God foreknew that the Eunuch would be passing by a certain place at a certain time reading a certain passage. All that was necessary for his salvation was for God to find a willing and obedient servant who would be there waiting as his chariot passed by. Here is a truth:

"True obedience to God is not just obeying what you know of the scriptures but being available to obey the voice of God when He speaks."

Bible knowledge is useless if we do not make ourselves available when God gives us assignments to do. So often it is not who is qualified that accomplished God's will, but the person who actually obeys.

Timing is everything with divine intersections

When God speaks to us through His still small voice He expects that we will listen, hear and obey on time. Our Father simply gives us enough direction to begin the journey. When we take a step of faith and obey our Lord's command He reveals the next step. This is the walk of faith. Often times His directions runs counter to what the natural minds thinks is appropriate. Philip was an evangelist whom found great success in Samaria. Based on that success Philip might have assume He should just go to the next city. No one would fault the Evangelist for making this logical choice; except God. Instead, Philip listened to the voice of God and stood at a certain place in the desert.

Thumbing a ride in the desert

A great man, an Ethiopian eunuch, Happened along and God told His servant to hitch a ride. So happens that just at that time the eunuch was reading a verse in Isaiah that spoke about Jesus. Asking Philip what it meant the Spirit led servant of God shared the gospel with him. Philip, through that one"divine appointment" likely shared the good news to more people than he did for the rest of his life. Today in Ethiopia, even though Muslim countries surround it, there still remains over 30 million Christians.

A divine intersections are not always easy

Divine intersections consist of placement, timing, and faith. You have to be where God wants you to be at the time that God tells you to be there. Furthermore, by faith, you have to obey and do what God directs. Often times this is uncomfortable because obedience may involve approaching a person and speaking something God has dropped into your heart that may not make a whole lot of sense. By faith you must speak or do whatever God goads you to do trusting that He knows the full situation. A pastor told a story that he was waiting to make a phone call at a telephone booth one evening. The man using it was very angry and talking roughly to someone on the phone. This man stood huge and powerfully built like a NFL line backer. The Holy Spirit goaded the pastor to tell that man "your afraid"! The pastor, fearful himself, wondered if saying those words to that big man was a good idea! As the man stepped out of the phone booth and glared at the minister the pastor blurted, "your afraid!" The man looked stunned and then started to break down and cry. He said, "yes, I always feel afraid."

The right place, time, and word

Through that act of obedience a soul in need heard the voice of God. The pastor talked and prayed for that man and he went away greatly relieved and full of joy. A few words spoken to the right person, at the right time, makes a world of difference. Isn't is wonderful that we can be chosen to carry out such divine appointments!

Add some divine intersections to your schedule today!

In conclusion, God will give you divine intersections through His Holy Spirit as soon as you open up your schedule. God has much work to do in the kingdom of heaven and needs many like Philip. If you are truly God's servant I encourage you to be available for service at a moment's notice. Jesus is the master of our time, finances, or earthly obligations. Trust God's voice and see miracles happen in your lives and others!

Sep 23, 2018

Legacy Of Love

Sep 16, 2018

The Mystery Of The Gospel

Sep 16, 2018

The Mystery Of The Gospel

The Mystery Of The Gospel

The Bible tells us that the mystery of God is Jesus Christ: "My purpose is that they may be encouraged in heart and united in love, so that they may have the full riches of complete understanding, in order that they may know the mystery of God, namely, Christ, in whom are hidden all the treasures of wisdom and knowledge" (

Colossians 2:2–3

). A "mystery" in the New Testament is something that had at one time been hidden but is now revealed to God's people. Jesus spoke of "the mystery of the kingdom of God" (

Mark 4:11

, NAS) that He was at that point revealing to His disciples. The apostle Paul used the word

mystery

21 times in his Epistles. In each case, the "mystery" involved a wonderful declaration of spiritual truth, revealed by God through divine inspiration. A mystery is that "which was not made known to people in other generations as it has now been revealed by the Spirit to God's holy apostles and prophets" (

Ephesians 3:5

). The mystery of God's will is that "which he purposed in Christ, to be put into effect when the times reach their fulfillment—to bring unity to all things in heaven and on earth under Christ" (

Ephesians 1:9–10

; cf.

1 Corinthians 2:7

;

Revelation 2:7

). The mystery of God is the consummation of God's plan in bringing His kingdom in Christ to fulfillment. The kingdom had long been prophesied, but the

how

and the

when

and the

by whom

was not clear until the time of Christ. It is in Christ that God has been manifested to all of mankind. As Jesus said, "Anyone who has seen me has seen the Father" (

John 14:9

). Paul said that he had been commissioned to preach "the word of God in its fullness—the mystery that has been kept hidden for ages and generations, but is now disclosed to the Lord's people" (

Colossians 1:25–26

). That is, it is through the apostles that we have been given the capstone of Scripture; their writings, all of which point to Christ—represent the final disclosure of God's Word to mankind.

Sermons from our recent Series on Prayer:

Sep 16, 2018

The Mystery Of History

Sep 16, 2018

The Mystery Of History

Did this man, Jesus Christ, really change the world?

Jesus had a very famous birth that some today still contest (Matt 1:18-25).
Jesus was identified by some as the future king or Messiah and so a child execution was ordered to prevent it (Matt 2:13-16).
Even as a boy Jesus did things that showed there was more to Him than anyone realized (Luke 2:41-50).
Jesus went head to head with Satan who tempted Him greatly but Jesus still never sinned (Luke 4:1-13).
At a wedding as a young man Jesus first showed His ability to perform miracles (John 2:1-11).
Jesus taught that a man must be born a second time (John 3:1-5).
Jesus is revealed to some as God's Son (Matt 17:1-5)!
Jesus performs a miracle witnessed by over 5000 (Mark 6:35-44).
Jesus was initially received as the coming King of the Jews (Mark 11:7-10).
Jesus was crucified for all mankind (Matt 27:27-51 & Isaiah 53:1-5).
The Resurrection (John 20:1-17)
John 3:16-17 "For God so loved the world that He gave His only begotten Son that whoever believes in Him shall not perish, but have eternal life. For God did not send the Son into the world to judge the world, but that the world might be saved through Him."

Did this man, Jesus Christ, really change the world?

Sermons from our recent Series on Prayer:

Sep 9, 2018

Warfare Prayer

Sep 2, 2018

Praying The Scriptures

Sep 2, 2018

Praying The Scriptures

Praying the scriptures when you don't know what to pray is a way of aligning ourselves with God's heart and praying according to His will. What better way is there to give our prayer life new meaning?

So when words fail you, open the Bible and allow God's word to be your prayer. Here are a few tips that can help get you started:

Find a quiet place to connect with God.

Our lives are so busy, and our days are constantly filled with noise. When we find a quiet place to pray we are able to connect with him without distraction. We can focus on letting his Word speak to us and direct our prayers.

Begin by praying a Scripture that prepares your heart for connecting intimately with God.

Some possible examples include:

"Gracious God, I come boldly to your throne. I need your mercy and grace in my life" (Based on Hebrews 4:16).

"Lord, I need you. Please open my eyes to see the wonderful truths in your instructions" (Based on Psalm 119:18).

Use a verse or passage to shape your prayer.

You can do this by praying the verse back to God and inserting the name of a specific people group to make the prayer more personal. If you don't know where to begin, the book of Psalms has some great prayers! Whether you're looking to declare God's goodness, beg him to listen or praise his holy name, there's a psalm that can become your prayer. Paul's epistles also have some great encouragements and prayers, like Colossians 1:3-13. It's a wonderful example of a passage to pray for a community that is learning about God in their own language for the first time!

"Lord, the whole earth is yours, and everything in it! The world and all its people belong to you — including the Rapa Nui people of Easter Island. May these people understand the depth of your love for them today" (Based on Psalm 24:1).

God invites us to intimately connect with him through prayer, and what better way to do that than to use his own words in the Bible! And as you pray Scripture, you'll find new ways to talk to God too.

More from the Prayer Series:

Sep 2, 2018

Model Of Prayer: The Tabernacle

Sep 2, 2018

Model Of Prayer: The Tabernacle

The Tabernacle shows us how to come into the presence of the Lord through prayer.

Did you know that the Tabernacle was given to Moses to help the Israelites come into God's presence as they were wandering through the wilderness? The Tabernacle was a place where God dwelt among His people. This same tabernacle model of prayer is a key to how we can have a deep and abiding experience of the Holy Spirit. Like the tabernacle, Jesus is our way into knowing and understanding the heart of God. The Tabernacle was composed of three areas: the outer court, the Holy Place, and the Holy of Holies. Within each area were pieces of furniture with specific functions. The design and function of each element helped the Israelites and priests draw closer to Him. Likewise, each element of the Tabernacle shows us how to draw closer to Jesus Christ and seek His presence as we pray.

[caption id="attachment_4291" align="alignnone" width="1024"]

Tabernacle of Moses Diagram[/caption]

The Gate

: The gate was the entry into the outer court. For us, Jesus is the gate into the outer court. When we accept Jesus as our Lord and Savior we pass through this gate and begin our relationship with the Father, Son, and Holy Spirit. Jesus is the one and only path into the presence of God.

Outer court

: Anyone who receives Jesus Christ can enter through the gate into the outer court of the Tabernacle. The outer court is a place of repentance and cleansing as we "burn up" and "wash away" anything that interferes in our relationship with Jesus. The Brazen Altar and the Brazen Laver were located in the outer court.

Brazen Altar (Altar of Burnt Offerings). The priests sacrificed animals to atone for the people's sins at the brazen altar. Under the new covenant, the altar represents Christ's sacrifice on the cross. In prayer, we repent and die to self by giving up our own desires and seeking His will.
Brazen Laver. The priests washed their hands and feet at the large basin known as the brazen laver. After we repent of our sins, we are washed by the blood of Jesus and cleansed of all our sins. We are changed and sanctified.

As we pray, we symbolically move through the outer court; repenting of our sins, asking and receiving forgiveness for our daily sins, and experiencing refreshment – as we seek intimacy with God. Just remember to not tarry too long in the outer court! Jesus intends for us to freely accept His unconditional love.

Holy Place:

The Holy Place symbolizes deeper intimacy with Jesus. Three pieces of furniture were contained within this space: Table of Shewbread, Golden Lampstand, and Altar of Incense.

Table of Shewbread: This was the table where the priest placed 12 special loaves of bread to represent the 12 tribes of Israel. This bread represents the Word of God, our bread of life. We are to partake of and be filled up by God's Word, particularly in prayer. It is to be our guiding light.

Golden Lampstand (Menorah): The seven oil lamps on the Golden Lampstand provided light in the Holy Place. For us, the lampstand represents the light of the Holy Spirit. The Holy Spirit gives us divine understanding of the Word and greater ability to discern the deeper things of God as we pray.

Altar of Incense: The priests burned an offering of incense morning and evening. It is here that we worship, prayer, and intercede on the behalf of others as we hear and respond to God's voice. Our prayers become a pleasing aroma to God, like incense.

Holy of Holies

: A small, separate room called the Holy of Holies was located inside the Holy Place. It was here that the

Ark of the Covenant

– a golden box that contained all the symbols of God's covenant with Israel – was kept. The Holy of Holies was God's dwelling place that could only be entered by the High Priest annually to offer a sacrifice for people's sins.

Here we meet with God and sit in His presence. His spirit speaks to our spirit, we hear his voice, we have dreams and visions, and we respond in prayer. We have our most intimate times with Him in our symbolic Holy of Holies.

How to Use the Tabernacle as a Model for Prayer

Experiment with the tabernacle as a prayer model. Visualize yourself moving from the outer court into the inner court and then into the Holy of Holies. Symbolically perform the functions described above and summarized below at each piece of furniture.

More from the Prayer Series:

Aug 26, 2018

Praying For The Lost

Aug 26, 2018

Praying For The Lost

Do you pray for the lost?

Many people have family, friends and loved ones who are not yet believers or have strayed away from God. Pray and believe knowing that God's Word will be fulfilled in their lives.

Only God can save a soul and each person must decide individually if he or she will believe in Jesus and accept the free gift of salvation. Prayer is an important part of the process. Here are a few suggested ways to pray.

Claim the person you are praying for as God's purchased possession in the name of Jesus and on the basis of His shed blood. "ln Him we have redemption through His blood" (Eph. I:7, NASB).
Ask God to tear down the works of Satan, like false doctrine, unbelief, or other teaching that the enemy may have built up in a person's life. Pray for his thoughts to be taken "captive to the obedience of Christ" (2 Cor,10:5, NASB).
Pray that the Holy Spirit will convict him of his sin and his need for a Savior. "The kindness of God leads you to repentance" (Rom. 2:4, NASB).
Pray that the person will hear, receive, or read God's Word and that God's will and purposes may be accomplished through Scripture. "So will My word be which goes forth from My mouth; It will not return to Me empty, Without accomplishing what I desire" (Isa. 55:lI, NASB).
Pray that the person's eyes will be opened and ears unstopped so that the truth is heard. "And even if our gospel is veiled, it is veiled to those who are perishing, in whose case the god of this world has blinded the minds of the unbelieving so that they might not see the light of the gospel of the glory of Christ" (2 Cor. 4′.3-4, NASB).
Pray with consistency and perseverance, not to persuade God but because of the resistance of the enemy. Read Daniel l0:12-13. "Therefore, my beloved brethren, be steadfast, immovable, always abounding in the work of the Lord, knowing that your toil is not in vain in the Lord" (l Cor. 15:58, NASB).
Thank God for making us more than conquerors. "But in all these things we overwhelmingly conquer through Him who loved us" (Rom. 8:37, NASB). "Thanks be to God, who gives us the victory through our Lord Jesus Christ" (l Cor. 15:57 , NASB).

More from the Prayer Series:

Aug 19, 2018

Biblical Models Of Prayer: Jabez

Aug 19, 2018

Biblical Models Of Prayer: Jabez

"9 Jabez was more honorable than his brothers, and his mother named him Jabez saying, "Because I bore him with pain." 10 Now Jabez called on the God of Israel, saying, "Oh that You would bless me indeed and enlarge my border, and that Your hand might be with me, and that You would keep me from harm that it may not pain me!" And God granted him what he requested." 1 Chron. 4:9-10 NASB

This little vignette, tucked away among the genealogies of the Chronicler, spawned a best-selling book at the dawn of the twenty-first century. Unfortunately, the best seller missed the point of the story, which reinforces some of the Chronicler's key themes. The Chronicler tells us that Jabez, a descendant of Judah, was more honored than his brothers. That honor was surprising given his naming, for Jabez was named for pain. Yet, as his story unfolded, the pain that surrounded his birth was not what defined him. Jabez prayed and God transformed his situation from curse to blessing.

The point is not that Jabez's prayer has some kind of magic power in its words. The point is that God has awesome power to change a person's destination from curse to blessing. We are all like Jabez, born under a curse, headed toward a life of pain and futility. But God has the power to rescue us from that fate. Jabez prays to be kept from evil so that the pain of the curse might not come upon him. God hears and answers his prayer, and he is blessed.

So we should certainly pray like Jabez did, trusting God to transform our native curse into a blessing. But we are to pray remembering God's promise to conform us to the life of Jesus, whose way to blessing runs through the path of suffering first, glory later. We can pray in His name knowing that He is even now praying for us in heaven.

More from the Prayer Series:

Aug 19, 2018

Personal Prayer

Aug 19, 2018

Personal Prayer

"We look upon prayer as a means of getting things for ourselves; the Bible's idea of prayer is that we may get to know God Himself." -Oswald Chambers

Prayer is first and foremost a personal relationship with Jesus Christ. Some people think of prayer as a business transaction or as something they have to do just like checking something off a to-do list. But that isn't really prayer at all. Think of prayer in intimate terms, like a conversation between close friends. What are some words you think of when you think of an intimate friendship? You probably think of words like loving, caring, warm, sincere, personal and intimate. These are words that should be used to describe our prayer time with the Lord. Prayer should not be dry or stuffy; it should be warm and intimate.

Every believer can have a dynamic personal prayer life. The Bible gives us the keys we need to develop a powerful prayer life. The Scriptures are full of examples of men and women who walked with God and used prayer to impact their world, and you can do the same thing through prayer.

More from the Prayer Series:

Aug 12, 2018

Living By Grace

Aug 12, 2018

Living By Grace

Aug 12, 2018

Greetings!

Aug 12, 2018

Greetings!

Aug 5, 2018

Don't Be A Light Blocker

Aug 5, 2018

Don't Be A Light Blocker

Aug 5, 2018

The Power Of The Gospel

Aug 5, 2018

The Power Of The Gospel

Jul 29, 2018

Be A Reflection

Jul 29, 2018

Be A Reflection

Jul 22, 2018

The Insanity Of Worship

Jul 22, 2018

The Insanity Of Worship