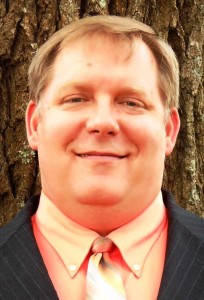 Bro. George Riek – Pastor
Email: orchardpastor@bellsouth.net
Vitals: Born December 5th in Montgomery, AL
Family: Wife: Juli, Children: Carly and Lily
Education: Graduate of New Orleans Baptist Theological Seminary with a Master of Divinity degree
How long have you been a member of OBC: Four years
What I Love About OBC: I love the fact that everyone that enters can feel a loving attitude toward God and people
What Inspires Me: Time in the Word, Prayer & Christian Music
Favorite Bible Verses: Hebrews 12:1-3, and Romans 12:1-2
How do you desire to serve God: Basically I desire to serve God just as my favorite verses say, I strive to be transformed by the renewing of my mind each day and I ask God to give me the strength to run the race to finish!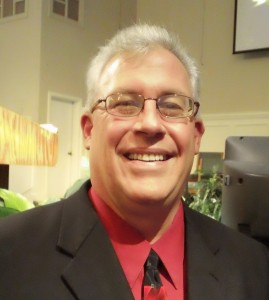 Bro. Kevin Wade – Minister of Music
Vitals: Born August 7th 1965 in Bellfontaine, OH
Family: Wife: Kathy, Children: Magan and Brett
How long have you been a member of OBC: About 6 years
What I Love About OBC: We, as a congregation, worship thru songs, hymns and spiritual songs, blended in their origins and musical styles and also this group of believers called by the name Orchard Baptist Church worships in and thru their giving as much, if not more so than any other church I have been blessed to be part of.
What Inspires Me: Spending time with the Father, a variety of Christian music and my wife & girls
Favorite Bible Verses: I Thessalonians 5: 14-25, especially vs.22 & 24
How do you desire to serve God: Be the best "right hand man" to my pastor and to serve our Lord faithfully in what ever direction He leads me in without sacrificing my family or my relationship with my family and to hear those words we all want to hear, "Well done…".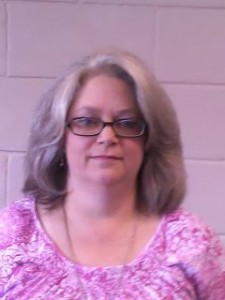 Maureen Finlay Pickle – Financial/Administrative Secretary
Vitals: Born May 4th in Mobile, AL
Family: Daughter: Victoria(Tori) Parents: JR and Maudie
How long have you been a member of OBC: Five years
What I Love About OBC: I love the fact that everyone welcomed me and my daughter into their family here at Orchard. And that they show us love like Christ has shown us.
What Inspires Me: Bible study and fellowship with my sisters and brothers at Orchard.
Favorite Bible Verses: Psalms 139:14,Luke 23:34
How do you desire to serve God: My desire is to serve God's people and show all people the love that he has shown me. I strive to please God by doing as his Word has instructed me and tell of his love all over.
Bro. Don Bond – Sound/Audio Visual Technician
Email: dbond_008@ymail.com
Vitals: Born November 11th in Mobile, AL
Family: Children: Felicia, Mitchell, Grayson, & Preston
How Long Have You Been A Member of OBC: Three years
What I Love About OBC: The servant spirit of so many here. I also love the way the gospel is presented in a bold, unapologetic way. We have a love for God and our community and are not afraid to live it.
What Inspires Me: My children are a constant source of inspiration for me. The boldness and steadfastness of our staff is also a point of inspiration. I find that Christian music of all genres helps me with the day-to-day challenges and inspires me to seek God's face in not only the trying times , but the good times as well.
Favorite Bible Verse: There are so many, but the one that means the most would have to be Hebrews 12:1-2. Romans 8:1-4 is another passage that has helped me.
How Do You Desire to Serve God: To show the love and mercy of God to those who have not found him yet. Using my talents to fulfill the Great Commission. To see the lost and wandering come to a true, personal relationship with Jesus.