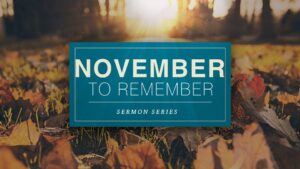 Nov 28, 2021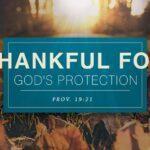 Thankful For God's Protection
Watch
Notes
Download
Date
Title
Nov 28, 2021

Thankful For God's Protection

Nov 28, 2021

Thankful For God's Protection

Nov 21, 2021

Thankful For God's Blessings

Nov 21, 2021

Thankful For God's Blessings

Today we will celebrate our Thanksgiving together after the service What, exactly, are we thankful for each year at this time?

Many answers to that question may come, but, let me say, the greatest reason to be thankful is God's blessings

Nov 14, 2021

Thankful For God's Grace

Nov 14, 2021

Thankful For God's Grace

We celebrated Veteran's day last week, so you would think that is what we would talk about today; Instead, I want to talk about something even more powerful.

America, America! God shed His grace on you.

God's grace. What a wonderful thing to think about.

If you took all the rest of this passage out and only focused on verse 12, it is the most amazing thing But you can't take the rest of the passage out because God's grace is all over us every day What should we do with the knowledge of God's grace in our lives? Praise Him and thank Him daily. Live our lives graciously, remembering His grace To realize how much God's grace has done for us and not live thankful is beyond comprehension Knowing God's grace has covered us in our shortcomings should make us thankful to God for eternity What grace should really do is cause His people, who are called by His name, to extend grace to others in this world Reality is, the very people who are so blessed with God's grace are the same people who rarely extend grace to others The slave whose debt was forgiven, refused to give that same grace to those who owed him Christians are some of the most brutally judgmental people in the world, but we should give the most grace

Nov 7, 2021

Thankful For God's Love

Nov 7, 2021

Thankful For God's Love

Welcome to Fall! When the weather turns cool and foliage changes, I'm blown away by how Great God is!

This is when the world seems to look toward Christmas

November is a great time to remember to be thankful to God for everything

Over the course of 4 weeks we are going to see how to use November to Remember

Probably, most of us could quote John 3:16, but have you ever dwelled on it?

"For God so loved the world"

Think about the most loved you have ever felt, isn't that wonderful?

God's love makes that look tiny.

God SO loved, meaning a love that was everything He has

And He gave it to ALL!

Understand that God's love is not withheld from anyone

Yes! God loves even what we call "bad" people. He loves every person!

That is a love that is amazing, right?

I'm thankful that God loves me, even when I know I'm not a perfect person.

I'm thankful that God loves even the "bad" people, because it is so easy to become one.

Now that we are all feeling thankful for God's love, let me ask you something;

What do we do with that Love?

You see being thankful means we live graciously.

If we live graciously, then we follow the example given to us in our Savior and love EVERYBODY

I know "that's impossible!", right?

It is, in the flesh, for certain. We all struggle to love, when we can't even like everyone.

For believers, one stumbling block to loving everyone, is when people are blatantly living in sin.

Think of it this way, those are the people who need God's love most urgently.

If we don't live the love God gave us, then how will they see it?

You see, being thankful means it actually changes your life. You live thankful every day.

God's love is the most amazing gift that anyone can receive.

Have you experienced God's Love and the Salvation it brings?

Are you ready to live that love everyday?