Jan 23, 2022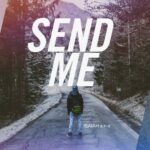 Send Me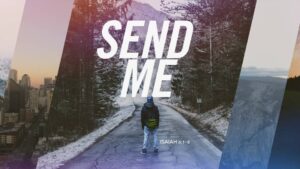 On January 20, 1961 President John F. Kennedy made this statement:
"Ask not what your country can do for you – ask what you can do for your country"
As we began our study in Nehemiah this week, that thought pattern came to mind about believers and God
What if we stopped asking God to give us everything and make our lives easy and instead asked...
How can we serve you, Father?
For the first time really in Isaiah's life he saw the glory of God and how small and sinful he was.
What if we could each have that experience of seeing the true Glory of God
The reality is that through Isaiah's experience we should be able to see ourselves in that throne room
The experience was amazing, beautiful, and terrifying all at the same time
Most importantly, it truly showed Isaiah the sinfulness of his self and it shook him to the core
"Woe is me, for I am ruined"
Perhaps that is the true thing that we all need to see, how sinful and ruined we truly are next to Holy God
But Isaiah was not allowed to wallow in his realization of sin
His sin was taken away by the Holiness of God
Even in our sinful state God loves us and is willing to cleanse you
Why?
He created you for a purpose and He wants you to be used for that purpose
If God had nothing for us, once He cleansed us, He would simply take us home
Once Isaiah saw his sin, then was cleansed, he heard the voice of the Lord
God asked "Whom shall I send, and who will go for Us?"
Without any hesitation Isaiah said "here I am, send me"
Today as believers we seem to be more concerned in what can God do for us.
What if……think about this
What if God's people paused for a moment and considered not what God can do for us
Instead what can we do for God!
John F. Kennedy's speech moved thousands of Americans to civic work that had never considered that before
If believers could get that message and move to action I have no doubt there would be a revival like has never been
Will you ask God,
"What can I do for you in 2022?"
Maybe what you need to do is give your life to Him in the first place. Are you ready?
Watch
Notes
Download
Date
Title
Jan 23, 2022

Send Me

Jan 23, 2022

Send Me

On January 20, 1961 President John F. Kennedy made this statement:

"Ask not what your country can do for you – ask what you can do for your country"

As we began our study in Nehemiah this week, that thought pattern came to mind about believers and God

What if we stopped asking God to give us everything and make our lives easy and instead asked...

How can we serve you, Father?

For the first time really in Isaiah's life he saw the glory of God and how small and sinful he was.

What if we could each have that experience of seeing the true Glory of God

The reality is that through Isaiah's experience we should be able to see ourselves in that throne room

The experience was amazing, beautiful, and terrifying all at the same time

Most importantly, it truly showed Isaiah the sinfulness of his self and it shook him to the core

"Woe is me, for I am ruined"

Perhaps that is the true thing that we all need to see, how sinful and ruined we truly are next to Holy God

But Isaiah was not allowed to wallow in his realization of sin

His sin was taken away by the Holiness of God

Even in our sinful state God loves us and is willing to cleanse you

Why?

He created you for a purpose and He wants you to be used for that purpose

If God had nothing for us, once He cleansed us, He would simply take us home

Once Isaiah saw his sin, then was cleansed, he heard the voice of the Lord

God asked "Whom shall I send, and who will go for Us?"

Without any hesitation Isaiah said "here I am, send me"

Today as believers we seem to be more concerned in what can God do for us.

What if……think about this

What if God's people paused for a moment and considered not what God can do for us

Instead what can we do for God!

John F. Kennedy's speech moved thousands of Americans to civic work that had never considered that before

If believers could get that message and move to action I have no doubt there would be a revival like has never been

Will you ask God,
"What can I do for you in 2022?"

Maybe what you need to do is give your life to Him in the first place. Are you ready?

Jan 16, 2022

All God's Children

Jan 16, 2022

All God's Children

Tomorrow is a Federal Holiday marking Martin Luther King Jr's birthday

He spent his life preaching that ALL people were created in God's image and we need to love one another

Today, the divisions between people simply because of skin color, are still in full existence

Even though God created ALL people in His image, the world has divided us because we look different

We are ALL God's children! We are ALL created in His image!
He loves us ALL!

There is only one hope for all this racisim and division to be healed, and that is humility

Yes, I have preached on this passage before and, to be honest, I will probably preach on it again later

Our world today is not what Martin Luther King Jr dreamed about

But it can be!

"If My people, who are called by My name"

Understand that God's people, who are called by His name, do not have a race

Our race is "God's people", no matter what we look like on the outside.

Only if you are identical twins, do any of us actually look just like one another

We are all unique creations and if we have given our life to Christ, we are ALL God's children

You say, "Preacher, we know that!"

But do you live that way?

How many people, who say they are believers, have close friends of another ethnicity?

Do you have them over to your house for dinner?
Do you go to their's?

If my people…."will humble themselves"

Humility is exactly what we all need to live. When we do that, we are pleasing to God.

When we stop thinking so highly of ourselves, we can live in Christ, as we are called to do

When ALL God's children humble themselves, and make friendships, and let others see, it is amazing!

If my people…."and pray and seek My face"

How do we live as God's children? We pray and seek His face

It is when we pray and seek Him that we hear from Him, and know how to live each day

If my people……"and turn from their wicked ways"

When we don't treat people as one of God's children, it is hatred of that person, and that is wicked

We can say, "I don't hate people, I just don't have anything in common with them"

But we don't know because we haven't tried to get to know them

I'm specifically talking about ALL people who look different from you

"Then I will hear from heaven, I will forgive their sin, and will heal their land"

So, we know the answer to all the division and hatred in our land today, so let's just do it.

God created every single life in this world today, yesterday, and tomorrow

ALL God's children

Are you called by His name today? Then, it is time we act like it!

If you don't know Him, do you want to?

Jan 9, 2022

Another Chance To Be Perfect

Jan 9, 2022

Another Chance To Be Perfect

So you finally began a New Year

Many people determine at the New Year to make changes in their lives

Some, who are already believers, determine to live more fully for Christ

Some, after deciding to examine Christianity, have actually become believers

For everyone, once a decision is made, what does that actually look like?

I want to do better but what does that actually mean in my everyday walk?

This is another chance for you to be perfect

Perfect? That isn't even possible!

Before we get to the topic of perfection, let's look at vs 44-45

In these verses we are called to do something that is not natural

"Love your enemies and pray for those who persecute you"

The world would say NO!

Look again at verse 45

This is possible through our Father in Heaven

Understand that this verse means that God loves ALL people, even your enemies

Perhaps, when we strive to love them and pray for them, we will learn about them

Maybe they shouldn't be our enemies, but we haven't given them a chance

Maybe they are our enemies because of something we have done

Maybe they have never felt the love of God that you know

When we decide that we need to make a change, the place we start is with us!

But I'm a nice person, just ask any of my friends

See, being nice and loving those who love you is easy

It is really truly striving to LOVE those who persecute you, that is so HARD

This is how you make that change that you decided to make.

This is your first step as a new believer and as a believer that wants to live better

We must strive to be perfect by living like our Father in heaven, not the world

This verse is clear, we are to be perfect, even if, as humans, we know that is impossible

The perfect that we need to be, is to live like Jesus every day

In our own strength, it is not possible, but God's love is perfect, so will you live in that love every day?

Every day is another chance to be perfect. Will you take that opportunity every day?

First, you must give your life to the perfect Father.

Will you take that step today?

Jan 2, 2022

Another Year Another Chance

Jan 2, 2022

Another Year Another Chance

What does a New Year make you think of?

All the things you didn't do last year that you wanted too?

All the things you want to strive for in the new year?

It always makes me think about a chalk board

No matter how many things are written on it, they can always be erased; and you are left with a brand new space

Old things have passed away and all things are now New

As a believer in Christ, there is a verse that comes to my mind

The old has passed away and the new things have come; just as 2021 is gone and 2022 is here.

The great thing about a new year, is that it hasn't been written yet. Everything you do is the first time this year.

"Now ALL things are from God"

"who gave us the ministry of reconciliation"

I'm sure that I'm not the only one that made mistakes last year

This is a new year for us to be reconciled again with God, and for us to reconcile with others because of God

One of the greatest barricades to destroying racism is the unwillingness to reconcile with the past

In order to be better this year, we need to be purposeful about reconciling with others

This means we must use the power that God gave us if we are ever to get there

He gave us the word of reconciliation, and, as we are reconciled with Him, we lead others to do the same

The only hope that we have for this world of ours is to show everyone Jesus is the ONLY answer

It is another year and another chance to be an ambassador for Christ

 

Did any of you men ever participate in RAs as a child?

RA stands for Royal Ambassadors for Christ

You see, what we have another chance to do this year is be the child of the King that we are supposed to be

We can serve as an ambassador to show every person the way to the King and eternal salvation

He became sin that we might become righteousness

Another year means another chance to lead people to Christ

Last year and the year before that I challenged you to strive to lead just one person to Christ

In order to lead one, you have to talk to many

I wonder how many actually met the challenge and led someone to Christ.

Another year, another chance

Last year, in this church, the baptismal pool remained dry

Let's be His ambassadors this year and see that pool full often.

You can't be His ambassador if you haven't committed your life to Him yet