Here at Orchard Baptist Student Ministries we are all about growing stronger in Christ and deepening our relationship with him. We also have a lot of fun while doing it! Ultimately our goal is to live like Jesus in such a way that He is seen within us on a daily basis. We want to have a hunger for God's word and instill his word within our hearts. We want to be bold for Christ not in just how we talk, but also in how we act, making a difference in our homes, schools, and churches. The OBC Student Ministry is headed by Bro. Tim & Mrs. Becky Hackett. We have many activities throughout the year. Youth Camp, various fund raisers, service activities in and around our community. We love the Lord and sharing His love with everyone around us.
Student Camp 2018
[Not a valid template]
End Of School Bash 2018
Our Fearless Leader, Bro. Tim!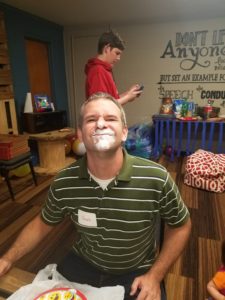 Winter Jam 2018
[Not a valid template]