Oct 31, 2021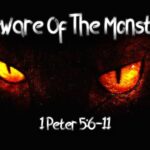 Beware Of The Monster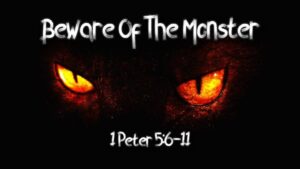 As children, we seem to have irrational fears about monsters
We see them in the closet, under the bed and especially in the shadows
Over time, we learn that there is no such thing as monsters and our fears mostly subside
I say mostly because we still see monsters as we grow up
What if I told you a fear, or at least a healthy respect of monsters is a good thing
Today is Halloween and people all over will dress up and celebrate fear
The thing about fear is that it is a mechanism to keep you safe
I titled this sermon "Beware of the Monster"
In our scripture today, we see is that satan is seeking people to devour like a lion
Remember how I said, as we age, we are taught there is no such thing as monsters
Well I want you to know today that there is one monster, and he is in this world, and his name is satan
On Halloween, people, who are normal looking, dress up as something scary
Satan, who is scary, masquerades as an angel of light according to 2 Cor 11:14
We normally fear scary things, but the problem is, satan doesn't appear scary
Our text says satan is seeking to devour, yet people are not afraid
People treat satan as if he is a child in a costume
Satan can't destroy those who have given their life to Christ, but he can make us miserable
Being firm in our faith, we can resist satan
Because of satan, we will have suffering
What we have to understand is how to overcome the suffering through Christ
Beware of the devil but don't dwell on him. Instead dwell on Christ.
"I can do all things through Him who strengthens me" Phil 4:13
The best way to be on the alert is to humble ourselves and cast our anxiety on Christ
I don't tell you to beware of the monster so that you dwell on him but so you recognize his attacks
If we can recognize the enemy, we know how to defeat him
The question is; do you know the only One that can defeat him?
Without a relationship with Christ, satan can not be defeated
Are you sure of your salvation today?
Watch
Notes
Download
Date
Title
Oct 31, 2021

Beware Of The Monster

Oct 31, 2021

Beware Of The Monster

As children, we seem to have irrational fears about monsters

We see them in the closet, under the bed and especially in the shadows

Over time, we learn that there is no such thing as monsters and our fears mostly subside

I say mostly because we still see monsters as we grow up

What if I told you a fear, or at least a healthy respect of monsters is a good thing

Today is Halloween and people all over will dress up and celebrate fear

The thing about fear is that it is a mechanism to keep you safe

I titled this sermon "Beware of the Monster"

In our scripture today, we see is that satan is seeking people to devour like a lion

Remember how I said, as we age, we are taught there is no such thing as monsters

Well I want you to know today that there is one monster, and he is in this world, and his name is satan

On Halloween, people, who are normal looking, dress up as something scary

Satan, who is scary, masquerades as an angel of light according to 2 Cor 11:14

We normally fear scary things, but the problem is, satan doesn't appear scary

Our text says satan is seeking to devour, yet people are not afraid

People treat satan as if he is a child in a costume

Satan can't destroy those who have given their life to Christ, but he can make us miserable

Being firm in our faith, we can resist satan

Because of satan, we will have suffering

What we have to understand is how to overcome the suffering through Christ

Beware of the devil but don't dwell on him. Instead dwell on Christ.

"I can do all things through Him who strengthens me" Phil 4:13

The best way to be on the alert is to humble ourselves and cast our anxiety on Christ

I don't tell you to beware of the monster so that you dwell on him but so you recognize his attacks

If we can recognize the enemy, we know how to defeat him

The question is; do you know the only One that can defeat him?

Without a relationship with Christ, satan can not be defeated

Are you sure of your salvation today?

Oct 24, 2021

Funerals For Good Living

Oct 24, 2021

Funerals For Good Living

Hebrew 9:27 says "it is appointed unto man once to die and after that the judgement"

In the last 8 days I have been a part of three funerals

Knowing this was the week ahead, I began to think about eternity and how many people live like there isn't one

I found an article about a service in South Korea that is offered to all

Free funerals for the living

Since it began in 2012 more than 25000 people have participated in "living funerals"

These simulated death ceremonies are designed to help you appreciate life and inspire gratitude and even forgiveness

Death is the destiny of everyone and the living should take it to heart

I saw many pictures at the funeral home this week that were different

One had a coffin being transported to the grave in a fishing boat

Another had a set of golf clubs leaned against the coffin

I've even heard of someone being buried with their rifle in the coffin

While all of these things were meant to show the things people loved to do in life, they were sad to me

Because there is no hunting, fishing, golf or football in heaven

If there is a service for me one day, the only item I want people to see is my Bible

Because, if death is the destiny of everyone, then, as a living person, we need to understand what really matters

So why do I say funerals for good living? To remind us that we only have a finite amount of time here

That should help to remind us do what Matt 6:20 says and store up treasures in heaven

This is saying, instead of living in this life to pleasure ourselves, we need to remember what is ahead

Think about this…if you die today what would your funeral look like?

Would people be talking about what a great football fan you were?

Maybe they would even say you were a good person and many other nice things

But what about you….do you know what is going to happen after your death?

Have you laid up any treasure in heaven?

Will you be in heaven?

It isn't automatic that you are going to heaven

When we spend time at funerals, it makes us think about our own mortality

One day death will come for you. So, the question is: Are you ready for what happens after that?

Have you ever given your life to Christ and accepted the salvation that He offers?

Let the Funeral help you live better by trusting in God and living every day for Him

Will you give your life to Jesus today?

Oct 17, 2021

Don't Settle For Less

Oct 17, 2021

Don't Settle For Less

Have you ever heard someone say "I got a better offer"

Sometimes people say that and others looking on don't think it is a better offer

Sometimes it is just taking an offer in a moment when it wasn't thought through

Often times that better offer ends up being much less than what you could have had

Don't settle for less!

 

Paul was writing this passage to the church at Ephesus

He wanted them to understand that, even if he was in prison, they could still be filled with the Holy Spirit

Surely after Paul was put in prison they may have felt as if all was lost

Maybe what they had was as good as it was going to be

 

Because he knew their weakened state, he prayed for them

He was praying in 16 that they would be blessed and strengthened through the Holy Spirit

He knew there was more and he didn't want them to lose heart and settle for less

Sometimes it isn't losing heart as much as it is losing sight of the things ahead

Believers sometimes get so wrapped up in the here and now they forget about the eternal

The problem with doing that is we are settling for something temporary

Instead of striving for something more

John 10:10 Jesus says "I came that they might have life and have it abundantly"

 

Paul is still praying here that believers would live in Christ and be rooted in love

That believers would see the breadth and length, height and depth

Before we settle for the tiny things this life has to offer we need to see how much more we could have

The prince of this world, satan, tries desperately to make this world beautiful and pleasing to you

He knows that if you look past this world you will not settle

 

"that you may be filled up to all the fullness of God"

If we allow ourselves to be satisfied in this world, we have not received that fullness God offers

When we are only partially filled, it is much easier for satan to make us ineffective by settling for less

The only thing that will lead to is buyers remorse

Do you long for a life that is full and abundant?

Do you know the one that can give it to you?

Don't settle for less when the best is available!

Oct 10, 2021

Let's Be Builders

Oct 10, 2021

Let's Be Builders

Division

This seems to be the word of the 21st century

Every time you read a news story some group is angry at another group and unwilling to come together

We know that the lost world will always be this way but it is not how the church is called to be

In today's world the church is just as much divided as the lost world

Do you know that almost anyone can do demolition but it takes skill to build

 

The very first verse of this passage is encouraging building one another up

Let's be builders within the church and those outside the church will notice

When I say the church, I'm speaking of the church universal, meaning all God's people

This is something that 21st century Christians do not do very well. Build across the spectrum of all believers.

 

"Live in peace with one another"

Are you getting this, we are to build up the whole body not just one arm and demo is not a good thing

 

This is called building up of the body of Christ

As I said before it takes skill to be a builder

You aren't going to find a video on YouTube on being a builder of the body.

There isn't a book at Lowes or Home Depot that can teach you.

How do I attain the skills to be a builder of the body?

 

This is exactly how you become a good builder

Notice the first steps are "rejoice always" and "pray without ceasing"

If we follow those two steps, then what we are really doing is living in Jesus so he can teach us.

Something modern believers find very hard to do is give thanks in "everything"

We only want to be thankful for the "good stuff"

God uses all things to teach us how to be good builders

Vs 21 – 22 sound so easy but in this world these are areas we struggle in

When we do not abstain from evil we are tearing down and not building up

Satan is throwing everything he can at you to help you fail

But ultimately we are the ones that give in to evil or not

When we overcome the evil, through constant prayer it is God sanctifying us to continue to build

 

Pray for one another

Are you a demolition specialist or are you ready to build?

Oct 3, 2021

Rest

Oct 3, 2021

Rest

The word rest brings many different thoughts to people Some immediately think of sleep Some a vacation Some even think of Retirement I want to look at why rest is important for the Human body 1 in 3 adults are not getting enough sleep according to a new study by CDC The American Psychological Association says that one large factor of sleep deprivation is STRESS WebMD lists stress as a factor in Heart disease, high blood pressure, diabetes and even alzheimers disease No wonder rest is something people say they want

Look with me today to

Matthew 11:27-30

to see what the scripture says about rest

First of all Jesus says "ALL things have been handed over to me by my Father"

In

vs 28

Jesus says "Come to Me" "Come to Me" doesn't mean swing by for a minute. It means to live in Him. When we live in Christ daily we give Him everything. "All who are weary and heavy laden" are you tired, worn out, at the end of your rope? "come to Me" Jesus says and "I will give you rest" This isn't a temporary rest. It's not a day that you can sleep late or a vacation or even a day to just relax. This is permanent rest. He will give you rest by you living in Him daily.

Vs 29

says "take my yoke upon you and learn from me" Jesus is telling you if you come to Him to live in Him daily He will give you rest by teaching you to give all your troubles to Him In order to take His yoke…..we have to let Him remove ours. "you will find rest for your souls" The burdens, the weariness, all this can be overcome if we allow Christ to remove our yoke and place His on us Again however, I want to remind you this isn't a picture of a brief rest and then back to the grind This passage is showing us that Jesus wants us to live in Him and let Him be our Lord every day and night When we say Jesus come be my Lord, we have to let Him, every day

"My yoke is easy and My burden is light"

Doesn't that sound much better than to be overloaded and burdened down? If you have never come to Jesus, He is calling you today, to give Him your life If you have asked Him to be your Lord already then strive to live in Him everyday, it is what He wants from us. Are you ready to Rest today?

Sep 26, 2021

First Place

Sep 26, 2021

First Place

Sep 19, 2021

Outside The Camp

Sep 19, 2021

Outside The Camp

Sep 12, 2021

We Will Never Forget

Sep 12, 2021

We Will Never Forget

Aug 29, 2021

The Cowardly Lion

Aug 29, 2021

The Cowardly Lion

This morning we are all keeping our eyes on the weather. Hurricane Ida is making her presence known

For most of us the words "Hurricane headed for the Gulf Coast" are words that bring fear

Goliath:
Over 9 feet tall
Armor weighed 125lbs
Spear was over 12 ft long
Spear head weighed 33+ lbs

David:
Less then 6 ft tall
Still a teen
Used a sling and a rock

I give you all this information because I want you to get a context of this story

The point I want you to take away from all of this is: "the battle is the Lord's"

How did David, a young teen, have the courage to face the giant with only a sling and a rock?!?

He knew he had the power of God on his side, and nothing is impossible for God!

God is described as the Lion of Judah

Why the Lion?

Because the Lion is the fiercest animal in the Kingdom

David showed the courage of the Lion because, in God, he had that same power

Understand this, when you accept Jesus as your Lord, you too are given the power to overcome the world

Believers today have been given that same power to overcome the world

Christians you have the strength of the Lion

I spoke with the children this morning about the cowardly lion from "The Wizard of Oz"

 

He was the King of the jungle but he lacked the one thing he needed most...

Courage

How could this be?!? He was a lion!

Somehow, something had happened to the Lion, and he lost his courage and believed he was forever weak

This gave him a paralyzing fear

Believers, today we are walking around in this world in some paralyzing fear believing we can't

The one thing that can change all that, is remembering this fact: "the battle is the Lord's"

David could look at that giant and know that he physically wasn't able to defeat him

But, he knew that, without a doubt, God was able and the battle was His anyway

As believers, we wonder sometimes how someone can say "I don't need God"

Then we turn around and live our lives as if "we don't need God all the time"

Most days we think "I got this on my own"

When trouble strikes, we call on God. "Ok God, I need you this time."

The fact of the matter is that apart from God we can do nothing – John 15:5

When we trust in our own strength, we run around like a cowardly Lion,

Afraid to engage people in conversation about Jesus

Afraid to take a stand for our Heavenly Father

Afraid to do the mission that we were given as Christians – Go and Tell

We are the offspring of the Lion of Judah! Stop being a cowardly lion and walk in the power of God!

You can't do that if you don't know Him

Would you like to know Him today?

Aug 22, 2021

God Knows You

Aug 22, 2021

God Knows You

Psychologists say that, as a people, we typically only allow a few people to truly know us

That means that, we show most people what we want them to see instead of our true self

This includes close friends and family as well

As a result of that behavior, we sometimes believe that we can do the same thing with God

If we only behave a certain way around our church or our friends, surely God will believe this is how we are truly.

In fact, sometimes we try so hard to convince others that we believe the lies we tell ourselves

However, there is only one truth of who we are, and I promise you, God Knows you

 

"You have searched me and known me"

In other words, God has looked in all our hidden places, and He knows us intimately

He knows us fully and completely, better than we even know ourselves

 

This means that God has us grasped in His hand. He didn't make us and leave us.

He is protecting us from every side and He wants us to grasp that fact

The next several verses say; where can I go from your Spirit? The answer is nowhere

In other words, God is always with us. No matter what we get into, He is there

Sometimes, people believe that they have just strayed too far and God can't reach them

 

There is no place too dark for God to reach you. God knows you completely and He loves you.

Why?

Why does God love me and why does He care?

 

God hand-made you personally

We aren't a mold that a factory uses to mass produce things

God spent time individually making every person in this world. He made us with His love.

"And my soul knows it very well"

The reality is, that deep down we know that God made us and He loves us

However, we allow ourselves to believe the lies of the world

Satan and the world say that you are better than God and you don't need God

Those are all lies and truly our soul knows it, if we listen

God made you to have a relationship with Him

 

For everyone of us, this should be our prayer daily

As humans, we lie, and we lie even to ourselves, but God Knows you

He is always with you no matter where you go

Won't you give yourself to Him today?

Aug 15, 2021

Beware Of Imitation Armor

Aug 15, 2021

Beware Of Imitation Armor

We live in a world where Satan is the Prince of this world

 

That means that everyday Satan and His army are trying to defeat God's children

 

He knows he can't snatch us out of God's hand

 

 

Since satan knows there is no way he can get you, he tries to make you ineffective

 

How does he do that?

 

He attacks you on every front that he can, to find a weakness to make you confused and hurt

 

If he can do that, you stop working for God and spend all your time worrying and upset

 

 

Put on the full armor of God

 

I want you to understand that this armor has to be God's armor otherwise it doesn't work

 

Let's look at what God's armor includes

 

Gird your loins with TRUTH

 

Everything satan does is calculating and he will try to convince you to use imitation armor

 

He says what is truth, isn't that relative to each person. Your truth can be whatever you want it to be.

 

Put on the breastplate of RIGHTEOUSNESS

 

Imitation armor doesn't work.  Just ask the Army.

 

Do you really want to protect your heart with imitations

 

God's armor is actually impenetrable

 

Shod your feet with the preparation of the Gospel of PEACE

 

The military spends millions of dollars on boots.  They understand that if a soldier's feet are injured the soldier is immobilized

 

If satan can immobilize us, he gets a win because how many others won't hear the gospel

 

The imitation we rely on is that someone else will go

 

When you put on the full armor of God satan is defeated and the Gospel is spread

 

The SHIELD of FAITH

 

This shield is able to extinguish all the flaming arrows of the evil one

 

What if your imitation shield was hit by one of satan's arrows

 

The imitation shield is believing that satan isn't going to bother you

 

Satan deploys many demons throughout the world and we are all in danger of a satanic attack at any time

 

The HELMET of SALVATION

 

The biggest thing that satan does, is try to tell you that you are not saved and unworthy to be saved

 

When you know that you have received salvation hold onto that hard

 

Make sure that you are sure

 

One way to continually live in salvation and battle the evil one is to use the SWORD of TRUTH

 

There is no substitute and imitations will fail

 

A good soldier spends a lot of time making sure their weapon is in great condition and ready always for battle.

 

When is the last time you cleaned your weapon and gave it a good inspection

 

Satan will throw every kind of imitation at you and if you put on imitation armor you can't battle

 

Accept no substitute, only use the armor of God!

 

Now the question is do you know Him in order to receive that armor?

 

Aug 8, 2021

Workmen For God

Aug 8, 2021

Workmen For God

During these crazy days, it is easy to get lost as to your real purpose in this world.

We are seeing Covid increasing at rapid levels once again and many hospitals are filling up

In fact, one of my High School classmates, Bubba Wood, needs your urgent prayers today

He is in ICU waiting for a respirator, which he desperately needs

When people are scared of death, they are usually more receptive to the Gospel

Therefore, we need to be ready to show people the truth of the Gospel

How can we make sure we are ready to share?

 

KJV says: "Study to shew thyself approved"

Be approved as a workman for Christ

How are we workmen for God? Look back to

vs 10-14

 

I want us to break down each of these verses

 

Now think about all these things in the context of being workmen for Christ

However, there is a trap that we need to avoid

 

We spend years serving our earthly bosses in jobs, trying to do our very best

If we are lucky, we might make a difference or we might be remembered for a few years

Think about this, if we are good workmen for God, the outcome is the population of heaven will grow.

There will be people that change their final destination from Hell to Heaven because we worked for God

Are you a workman for God today?

Do you know Him in the first place?

Do you want to?