May 28, 2023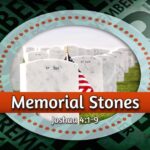 Memorial Stones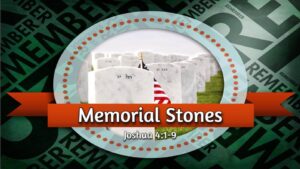 On Monday we will pause for Remembrance on Memorial Day
Why is this important?
Today I want to also talk about the importance of other memorials
On this day in scripture Joshua had two memorials set up
Why? To remember what happened and to pass it on to future generations
Every person has memorial stones in their lives
Some to help them keep something alive to pass on
Others to remind them they don't want to go there again
Perhaps we haven't set up enough memorial stones in our lives
Winston Churchill said, "Those that fail to learn from history are doomed to repeat it"
However, in some cases it is those historical things we need to repeat
All throughout scripture we are encouraged to remember and pass it on
God told the Jews to keep the word of God on their forehead as a memorial
As we study Exodus the Israelites are continually reminded they were once slaves in Egypt
Today it is important for Christians to remember they were once lost sinners
Sometimes we just want to forget, but remembering and sharing your struggles can be helpful
If every major event that God brings us through became a memorial in our lives
We would soon learn that we've been here before and God saw us through
As an American I can never forget that our Freedoms came by the loss of so many lives
I wear my Red, White, and Blue. I fly my flag. I cry at the National Anthem
It is one of the reasons I too became a soldier.
But what about the memory of what Jesus did for our Salvation
We can never forget that it cost Him everything to give salvation to us
So I read my Bible, go to church, serve in many ways as a memorial of what Christ has done
What He did for me is the reason I have salvation today
Do you know Him today?
Watch
Notes
Download
Date
Title
May 28, 2023

Memorial Stones

May 28, 2023

Memorial Stones

On Monday we will pause for Remembrance on Memorial Day

 

Why is this important?

 

Today I want to also talk about the importance of other memorials

 

 

On this day in scripture Joshua had two memorials set up

 

Why? To remember what happened and to pass it on to future generations

 

Every person has memorial stones in their lives

 

Some to help them keep something alive to pass on

 

Others to remind them they don't want to go there again

 

Perhaps we haven't set up enough memorial stones in our lives

 

Winston Churchill said, "Those that fail to learn from history are doomed to repeat it"

 

However, in some cases it is those historical things we need to repeat

 

All throughout scripture we are encouraged to remember and pass it on

 

 

God told the Jews to keep the word of God on their forehead as a memorial

 

As we study Exodus the Israelites are continually reminded they were once slaves in Egypt

 

Today it is important for Christians to remember they were once lost sinners

 

Sometimes we just want to forget, but remembering and sharing your struggles can be helpful

 

If every major event that God brings us through became a memorial in our lives

 

We would soon learn that we've been here before and God saw us through

 

As an American I can never forget that our Freedoms came by the loss of so many lives

 

I wear my Red, White, and Blue. I fly my flag. I cry at the National Anthem

 

It is one of the reasons I too became a soldier.

 

But what about the memory of what Jesus did for our Salvation

 

We can never forget that it cost Him everything to give salvation to us

 

So I read my Bible, go to church, serve in many ways as a memorial of what Christ has done

 

What He did for me is the reason I have salvation today

 

Do you know Him today?

May 21, 2023

The God Of Peace

May 21, 2023

The God Of Peace

Last week, my Christian brothers called for prayer over my family

Certainly, as much as we all want to not worry, we do

Philippians 4:4
"Rejoice in the Lord always; again I will say, rejoice!"

Rejoice in the Lord always

Philippians 4:5
"Let your gentle spirit be known to all men. The Lord is near."

The Lord is near

Philippians 4:6
"Be anxious for nothing, but in everything by prayer and supplication with thanksgiving let your requests be made known to God."

Don't worry but do pray

Philippians 4:7
"And the peace of God, which surpasses all comprehension, will guard your hearts and your minds in Christ Jesus."

Peace that passes understanding

Philippians 4:8
"Finally, brethren, whatever is true, whatever is honorable, whatever is right, whatever is pure, whatever is lovely, whatever is of good repute,

"if there is any excellence and if anything worthy of praise, dwell on these things."

Dwell on these things

Philippians 4:9
"The things you have learned and received and heard and seen in me, practice these things, and the God of peace will be with you."

Practice these things

The God of peace will be with you!

Do you need peace today?

May 17, 2023

Bible Study – Exodus 22 Pt2

May 17, 2023

Bible Study – Exodus 22 Pt2

May 14, 2023

The Best Culture

May 14, 2023

The Best Culture

Cancel Culture - The act of cancelling anyone's opinions that disagree with yours

Diversity Culture - The practice of accepting many different cultures not only one

Woke Culture - Designed to help people see the inequality of people groups in the World

The Best Culture - The Great Commandment

The Best Culture is the one that puts the emphasis on treating people with God's Love

One of the best examples we have is the Love of our Godly Mothers!

When a child comes to their mother with dirty faces and torn clothes, they know they will receive love

Yes, perhaps a scolding about playing in your good clothes, but mostly love

In most cases, if a child is hurt, they want their mother above all else.

You see, a mother's love is next to Our Father's love. It is given first and freely.

With all the different cultures I talked about today, and many I didn't mention, it is so easy to get caught up.

We can become angry about those we disagree with.

Even develop a hatred for people simply for identifying with one of these cultures

The roots, of the cultures I mentioned today, were truly trying to right some wrongs in the world today

However, like so many things, the roots were overtaken by a political agenda

We have become great at arguing our points by shouting loudly at the ones we disagree with

What if we recognized, like a mother does, that all these people are the same kind of people we are

Human beings in need of God's love

Think about how a mother loves her children unconditionally

Now look back at our text again

Our ability to love others begins with Loving God above all else

When we start with loving God, the natural progression is to love others

Instead of getting angry, recognize that all people are first humans and treat them with the love of God

If we truly want to see the culture of America and the world change, it starts with Loving God and Loving people

The Best Culture of God's Love

We can honor our mothers today, both those who are here and the ones who have passed, by Loving like a Mom

That person in front of you my feel like a sticky child covered with who knows what, but just love them!

You may not agree with their beliefs or their life choices, but just love them.

Jesus certainly doesn't agree with every person, but he does LOVE every person

There is only one way you can be a part of this culture, and it starts by giving your life to Jesus.

Are you ready to do that today?

May 10, 2023

Bible Study – Exodus 22 Pt1

May 10, 2023

Bible Study – Exodus 22 Pt1

May 7, 2023

Weary Sinner

May 7, 2023

Weary Sinner

At some point in their lives most people search for something to fulfill them

They try everything under the sun.

This lust the Bible is speaking of means what the flesh wants and what the eyes like

This is what the world is pushing as the best things

People grow weary trying to find fulfillment in these useless things

The problem is the love of the Father is not in any of these things

For many they have heard of the Love of God but try everything else instead

Look at this picture

"You built a mighty fortress 10,000 burdens high"

For so many people it is this fortress that keeps them from the salvation of God

"With everything I have done, there is no way I can ever be forgiven"

This is the first thing you have to do,

Repent!

Repentance is more than saying I'm sorry

You are not alone

"for ALL have sinned and fall short of the glory of God," (NASB)

ALL means ALL there is none that have not sinned

"For the wages of sin is death, but the free gift of God is eternal life in Christ Jesus our Lord." (NASB)

The free gift of God

"that if you confess with your mouth Jesus as Lord, and believe in your heart that God raised Him from the dead, you will be saved;" (NASB)

"for with the heart a person believes, resulting in righteousness, and with the mouth he confesses, resulting in salvation." (NASB)

"For the Scripture says, 'WHOEVER BELIEVES IN HIM WILL NOT BE DISAPPOINTED.'" (NASB)

Are you weary today?

May 3, 2023

Bible Study – Exodus 21 Pt3

May 3, 2023

Bible Study – Exodus 21 Pt3

Apr 30, 2023

The Battle For Your Soul

Apr 30, 2023

The Battle For Your Soul

"Be of sober spirit, be on the alert. Your adversary, the devil, prowls around like a roaring lion, seeking someone to devour." (NASB)

In this world there is a battle for your soul and the two combatants are Satan and Jesus

This is a winner take ALL battle

Not only is your soul the prize, but you are also part of the battle

 

 

 

 

 

And in Your lovingkindness, cut off my enemies And destroy all those who afflict my soul, For I am Your servant.(NASB)

 

 

Understand this battle is going on and has been since the beginning

We already know the outcome

God Wins!

Like all battles, there are casualties and, in this case, souls will be lost

What do you see happening in the world today?

In our country alone, the battle for the souls of the people is raging

Some may think, "I am not strong enough for this battle"

There is one last verse I want to share with all of us who are weary

"Submit therefore to God. Resist the devil and he will flee from you." (NASB)

This battle is already won, but many still need to know how to join the winning team

Romans 10:9 tells us exactly how to join

"that if you confess with your mouth Jesus as Lord, and believe in your heart that God raised Him from the dead, you will be saved;" (NASB)

Are you ready to join up today?

Apr 26, 2023

Bible Study – Exodus 21 Pt2

Apr 26, 2023

Bible Study – Exodus 21 Pt2

Apr 19, 2023

Bible Study – Exodus 21 Pt 1

Apr 19, 2023

Bible Study – Exodus 21 Pt 1

Apr 9, 2023

Risen Sermon Series – Conquered

Apr 9, 2023

Risen Sermon Series – Conquered

Happy Resurrection Day!

Access
Hope
Transformed

All of this because He is Risen!

Today we celebrate that Resurrection from the grave,

and because of that, sin and the grave are CONQUERED!

"But in all these things we overwhelmingly conquer through Him who loved us."

Not only the grave is conquered,

There is nothing we face that can't be conquered.

Cancer
Marital Stress
Financial Stress
Handicaps

We were never told we wouldn't suffer

But we will conquer!

38 "For I am convinced that neither death, nor life, nor angels, nor principalities, nor things present, nor things to come, nor powers,"

39 "nor height, nor depth, nor any other created thing, will be able to separate us from the love of God, which is in Christ Jesus our Lord."

Just look at this list

Because He is Risen, nothing can separate us from His Love

If we are securely locked in His love, everything that comes our way will be conquered

"I don't know if I can truly believe that"

Do you truly believe that Jesus overcame the grave and was resurrected on the third day?

If He has power over death, and you belong to Him, believe you too can conquer ANYTHING!

BUT, if you do not believe in Him, you will fall to EVERYTHING!

The question is….

Do You Believe?

Apr 5, 2023

Bible Study – Exodus 20 pt2

Apr 5, 2023

Bible Study – Exodus 20 pt2