Jun 28, 2020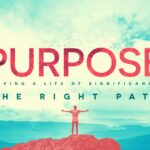 Purpose – The Right Path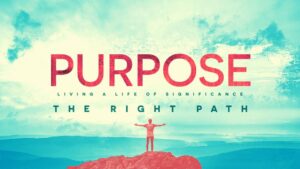 Jeremiah 29:11
"I Know"
Romans 8:28
"All Things for Good"
Proverbs 3:6
"The Right Path"
In ALL ways acknowledge HIM
ALL
means
ALL
Christians will quickly say we do that
When was the last time you started your day by submitting to Him
I'm speaking from experience
I believe I always take the big decisions to Him
This week He showed me that I wasn't daily submitting
Solomon the wisest man that every lived wrote this Proverb
Proverbs 1:1-7
How do you think that Solomon came to the conclusions?
Ecclesiastes 2:1-11
Solomon, after doing everything his way, found how not to do it
Solomon said doing it his way was vanity chasing the wind
Many of us have things to do every day and we just do them
We don't ever consider giving each day to God
If Christians are not giving ALL things to God,
How can we be on the Right Path?
Ecclesiastes 12:13-14
"I think I may be on the wrong road!"
Call someone who can help you determine the right road
Proverbs 3:5
Trust in the Lord and not in yourself
Trust only in the Lord
Proverbs 3:6
It is time to be on the straight path!
Watch
Notes
Download
Date
Title
Jun 28, 2020

Purpose – The Right Path

Jun 28, 2020

Purpose – The Right Path

 

Jeremiah 29:11
"I Know"

Romans 8:28
"All Things for Good"

Proverbs 3:6
"The Right Path"

 

In ALL ways acknowledge HIM

ALL
means
ALL

Christians will quickly say we do that

When was the last time you started your day by submitting to Him

I'm speaking from experience

I believe I always take the big decisions to Him

This week He showed me that I wasn't daily submitting

Solomon the wisest man that every lived wrote this Proverb

Proverbs 1:1-7

How do you think that Solomon came to the conclusions?

Ecclesiastes 2:1-11

 

Solomon, after doing everything his way, found how not to do it

Solomon said doing it his way was vanity chasing the wind

Many of us have things to do every day and we just do them

We don't ever consider giving each day to God

If Christians are not giving ALL things to God,

How can we be on the Right Path?

Ecclesiastes 12:13-14

 

"I think I may be on the wrong road!"

Call someone who can help you determine the right road

Proverbs 3:5

 

Trust in the Lord and not in yourself

Trust only in the Lord

Proverbs 3:6

 

It is time to be on the straight path!

Jun 21, 2020

Purpose – All Things For Good

Jun 21, 2020

Purpose – All Things For Good

All Things for Good

The third most searched scripture on Bible Gateway - Romans 8:28

Turn with me to
Romans 8:28

 

God causes all things to work together for good

be careful to see that God didn't say all things are good

Sometimes things that aren't very good

can work together to make things good

A shot hurts. Ask any child and they will tell you a shot isn't good

However, the medicines that are administered are good

The quick delivery method through a shot is good

So two good things come together through one bad thing

making it work together for good

Happy Father's Day to all you Fathers out there

Dads – we are called by God to be the leader of our families

to be the spiritual and physical leader of our families

Sometimes the decisions we have to make aren't good

but we make them for the overall good

Our Heavenly Father does the same thing

sometimes He allows us things that aren't good

But He causes even these things to work together

for good for those that love the Lord

SO Purpose?

This is a series on Purpose right?

Look at the rest of that verse it says according to His purpose

So the purpose, is in everything that we do,

it is for Him and not for us

He works all things together for good for His purpose

Right now in our tiny little world there are bad things happening

We see the things that are happening as bad

God is certainly using them to work together for a greater good.

His good purpose

Fathers, we all make mistakes with our children

You have to trust God

that He will use even our mistakes to come together for good

The biggest question is:

Do you trust God to work all things together for good?

Do you know Jesus? Have you given your life to Him?
All things for good to those who love God.

Do
You
Love God?

Jun 17, 2020

Book Of Daniel Study 10

Jun 17, 2020

Book Of Daniel Study 10

Jun 14, 2020

Purpose – I Know

Jun 14, 2020

Purpose – I Know

Jun 10, 2020

Book Of Daniel Study 9

Jun 10, 2020

Book Of Daniel Study 9

Jun 3, 2020

Book Of Daniel Study 8

Jun 3, 2020

Book Of Daniel Study 8

May 31, 2020

Influencers – How's Your Soil?

May 31, 2020

Influencers – How's Your Soil?

May 27, 2020

Book Of Daniel Study 7

May 27, 2020

Book Of Daniel Study 7

May 24, 2020

Influencers – Think On These Things

May 24, 2020

Influencers – Think On These Things

May 20, 2020

Book Of Daniel Study 6

May 20, 2020

Book Of Daniel Study 6

May 17, 2020

Community – For Heavy Lifting

May 17, 2020

Community – For Heavy Lifting

May 13, 2020

Book Of Daniel Study 5

May 13, 2020

Book Of Daniel Study 5