Jan 31, 2021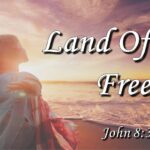 Land Of The Free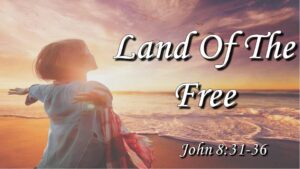 I often remind people that we live in the greatest country
We live in a country that gives freedom to it's people
Unfortunately, some people confuse this freedom….
With real freedom
"31 So Jesus was saying to those Jews who had believed Him, "If you continue in My word, then you are truly My disciples; 32 and you will know the truth, and the truth will set you free." 33 They answered Him, "We are Abraham's descendants and have never been enslaved to anyone; how is it that You say, 'You will become free'?"

34 Jesus answered them, 

"Truly, truly I say to you, everyone who commits sin is a slave of sin.

 35 Now the slave does not remain in the house forever; the son does remain forever. 36 So if the Son sets you free, you really will be free."
Real freedom is freedom from sin
The Israelites thought they were free because of heritage;
Americans think we are free because we are Americans;
Sin doesn't care about heritage or government
Sin enslaves every sinner.
Once sin is committed, the penalty is locked on
"23 For the wages of sin is death, but the gracious gift of God is eternal life in Christ Jesus our Lord."
"6

Jesus *said to him, 

"I am the way, and the truth, and the life; no one comes to the Father except through Me."
Jesus is the Truth, but sin is a liar!
Sin says you don't need Jesus
We live in a world today that loves sin and even glamorizes it
Sin looks beautiful and is popular
Sin says, "Hey, Why not?!? It is a free country"
The free gift of God is eternal life
How does that work?
The Son makes you free by paying for your sins on the cross
Jesus has paid your debt allowing you to be free
But you still have to accept it
Are you ready to be free, free indeed?
Watch
Notes
Download
Date
Title
Jan 31, 2021

Land Of The Free

Jan 31, 2021

Land Of The Free

I often remind people that we live in the greatest country

We live in a country that gives freedom to it's people

Unfortunately, some people confuse this freedom….

With real freedom

 

"31 So Jesus was saying to those Jews who had believed Him, "If you continue in My word, then you are truly My disciples; 32 and you will know the truth, and the truth will set you free." 33 They answered Him, "We are Abraham's descendants and have never been enslaved to anyone; how is it that You say, 'You will become free'?"

34 Jesus answered them, 

"Truly, truly I say to you, everyone who commits sin is a slave of sin.

 35 Now the slave does not remain in the house forever; the son does remain forever. 36 So if the Son sets you free, you really will be free."

Real freedom is freedom from sin

 

The Israelites thought they were free because of heritage;

Americans think we are free because we are Americans;

Sin doesn't care about heritage or government

Sin enslaves every sinner.

Once sin is committed, the penalty is locked on

"23 For the wages of sin is death, but the gracious gift of God is eternal life in Christ Jesus our Lord."

"6

Jesus *said to him, 

"I am the way, and the truth, and the life; no one comes to the Father except through Me."

Jesus is the Truth, but sin is a liar!

Sin says you don't need Jesus

We live in a world today that loves sin and even glamorizes it

Sin looks beautiful and is popular

Sin says, "Hey, Why not?!? It is a free country"

 

The free gift of God is eternal life

How does that work?

 

The Son makes you free by paying for your sins on the cross

Jesus has paid your debt allowing you to be free

But you still have to accept it

Are you ready to be free, free indeed?

Jan 24, 2021

God Of ALL

Jan 24, 2021

God Of ALL

President Biden this past week called for Unity

Many politicians have used the word without really meaning it

Regardless of your feelings about our new administration,

Unity is something we should strive for in this world

How is that really possible, you ask?

God is God of ALL

"4

Therefore I, the prisoner of the Lord, urge you to walk in a manner worthy of the calling with which you have been called, 2 with all humility and gentleness, with patience, bearing with one another in love, 3 being diligent to keep the unity of the Spirit in the bond of peace. 4 There is one body and one Spirit, just as you also were called in one hope of your calling; 5 one Lord, one faith, one baptism, 6 one God and Father of all who is over all and through all and in all."

Vs 1 says walk in a manner worthy of your calling

In other words, don't do things to draw people away from God

What we need to do is show God's love in all we do.

I know that sometimes we let the world's ugliness get to us,

Look at vs 2

 

The word tolerance here doesn't mean be tolerant of sin;

It is speaking of being tolerant of our human failures, tolerant in love

Vs 3

 

Here is that word unity again, but this time it says the unity of the Spirit

Meaning, we are to be united with God, and by doing so, walk worthy of Him

Vs 4-5

 

One Body, one Spirit, one Hope, one Lord, one Faith, one Baptism

Knowing this, we must be unified in our walk with Christ, worthy of our calling

This unity, this oneness, means stop trying to be about you

Satan is the prince of this world, and, because of that, tribulation abounds

We get caught up in worldly things and act all kind of crazy

We don't understand how some of the leaders of this country got there

Let me remind you that no one gains power without God giving it to them

Now, to help us better understand our role, look at

Eph 4:6 NASB

"6 one God and Father of all who is over all and through all and in all."

God and Father of ALL

Over ALL, through ALL, and in ALL

ALL means…….

ALL

So, if God is God of ALL, and He told us to walk in a manner worthy of Him,

We need to do exactly what He called us to do

Live our life reflecting the love of Christ so others can see Jesus in us.

Are you ready to walk worthy for the God of ALL today?

Are you ready to be Unified in the Spirit?

Jan 17, 2021

Sin Is Crouching

Jan 17, 2021

Sin Is Crouching

Sin has been a problem since Adam and Eve

 

"4

Now the man had relations with his wife Eve, and she conceived and gave birth to Cain, and she said, "I have obtained a male child with the help of the 

Lord

." 2 And again, she gave birth to his brother Abel. Now Abel was a keeper of flocks, but Cain was a cultivator of the ground. 3 So it came about in the course of time that Cain brought an offering to the 

Lord

 from the fruit of the ground. 4 Abel, on his part also brought an offering, from the firstborn of his flock and from their fat portions. And the 

Lord

 had regard for Abel and his offering; 5 but for Cain and his offering He had no regard. So Cain became very angry and his face was gloomy. 6 Then the 

Lord

said to Cain, "Why are you angry? And why is your face gloomy? 7 If you do well, will your face not be cheerful? And if you do not do well, sin is lurking at the door; and its desire is for you, but you must master it." 8 Cain talked to his brother Abel; and it happened that when they were in the field Cain rose up against his brother Abel and killed him."

Sin is crouching at the door

And it's desire is for YOU!

This is true for everyone, even today.

How do we keep sin away?

Look at verse 2 - 4

 

Cain and Abel knew what they were supposed to do

Cain tried to do it half way and that is never good

Unfortunately, for many Believers today, we do the same thing

We know what we are supposed to do, but we don't

Think about this if God was not pleased with Cain is He pleased with us?

Cain gave, but not of the first fruits

Look at verse 5

 

Cain is the one who did wrong, but he was angry

Today we call that deflection.

God asked Cain, "Why are you angry?"

Look at verse 6-7

 

If you do well you will feel better
BUT……

Instead of changing our failures, we dwell and anger burns

When we dwell, we draw sin closer

You see, sin may be crouching at the door

But we are the ones that let it in!

Cain let his anger burn until he opened the door

This anger led to the sin of murder of his brother

You never know how fully the sin will consume you

Therefore do not open the door, don't even dwell on it

In our world today it's all about ME

Life was created to be all about Him!

When we don't put God first, sin is crouching

But if we do well, we can keep sin away through God

Are you a sinner that needs a savior?

Do well and call on Christ today!

Jan 10, 2021

Present Yourself Approved

Jan 10, 2021

Present Yourself Approved

Today we gather together in a solemn assembly

Prayerfully, many of you have prepared by fasting and praying together

The purpose is to begin this New Year by re-committing ourselves to God

 

 

 

"You therefore, my son, be strong in the grace that is in Christ Jesus. The things which you have heard from me in the presence of many witnesses, entrust these to faithful men who will be able to teach others also. Suffer hardship with me, as a good soldier of Christ Jesus. No soldier in active service entangles himself in the affairs of everyday life, so that he may please the one who enlisted him as a soldier. Also if anyone competes as an athlete, he does not win the prize unless he competes according to the rules. The hard-working farmer ought to be the first to receive his share of the crops. Consider what I say, for the Lord will give you understanding in everything. Remember Jesus Christ, risen from the dead, descendant of David, according to my gospel, for which I suffer hardship even to imprisonment as a criminal; but the word of God is not imprisoned. For this reason I endure all things for the sake of those who are chosen, so that they also may obtain the salvation which is in Christ Jesus and with it eternal glory."

Paul says to Timothy, suffer hardship with me as a good soldier of Christ

We are called to be soldiers of the cross; advancing God's word across the world

Christ suffered for us and we are called to suffer for Him

The suffering we are talking about here is from the lost world who rejects Christ

Paul also compares this to being an athlete

In order to do that you must compete! You must get in the game!

Just as a farmer toils, he takes of the first fruits but does feed others

We, who are believers, are called by God to do His work

So that others may follow Christ

Are you a soldier for Christ? Are you in the fight? Are you plowing the fields?

Vs 10
Paul says I suffer so that others may receive salvation

Today, we have become so comfortable that we forget this

God wants us to be in the battle where, sometimes, we get hurt

But how can we win the war if we don't ever get in the battle?

 

If we died, we live; if we endure, we reign; if we deny, He denies

Vs 15 says study to show yourself approved

If we are not studying God's word, how can we follow it and share it?

God is not interested in how well you can make something sound

You speak the truth and God will make sure it does not return void

 

Today, we are renewing ourselves by asking God to cleanse us

We want to be useful to the Master

We desire to flee from sin and pursue righteousness

The only way that any of this is possible is if you give your heart to God

Jan 3, 2021

ReNew Your Heart

Jan 3, 2021

ReNew Your Heart

Welcome to 2021 All better now right? Of course it hasn't changed just because the calendar did. Last year was a tough year. Not just the pandemic, but so many things I would say it was a dark time for our Nation especially In the time of Joel, the land of Israel had been devestated There were no crops, no vines; the animals and the people alike were hurting It was indeed a dark time in the land of Israel

"Yet even now," declares the LORD, "Return to Me with all your heart,

And with fasting, weeping and mourning; And rend your heart and not your garments." Now return to the LORD your God, For He is gracious and compassionate, Slow to anger, abounding in lovingkindness And relenting of evil. Who knows whether He will not turn and relent And leave a blessing behind Him, Even a grain offering and a drink offering For the LORD your God? Blow a trumpet in Zion, Consecrate a fast, proclaim a solemn assembly, Gather the people, sanctify the congregation, Assemble the elders, Gather the children and the nursing infants. Let the bridegroom come out of his room And the bride out of her bridal chamber. Let the priests, the LORD'S ministers, Weep between the porch and the altar, And let them say, "Spare Your people, O LORD, And do not make Your inheritance a reproach, A byword among the nations.

Why should they among the peoples say, `Where is their God?'"

You see, when the times were so bad, the people were to call diligently upon God Today, more than any time in recent years, God's people need to call upon the Lord

Look again at 12-13

God's people are called to fast and rend their hearts to return to God

Today I believe that Christians have turned to everything but God to get better The government, money, self, even denial. We need to ReNew our hearts

Vs 14

When we return to God, we do not know what He will do, but we trust Him

Throughout history, when God's people returned to Him, He blessed them But….God does not want lip service! He wants you to show Him you are serious about returning to Him

Vs 15-16

Consecrate a fast, proclaim a solemn assembly,

Gather the people and Sanctify the congregation When was the last time you fasted, meaning denied food to pray? We need to be the warriors for our Nation, and we fight by calling on God We do that by denying self and calling upon the Lord to save our Land I am calling for a church-wide fast. Beginning at noon on Saturday 1/9/21 and ending at the end of service Sunday In fact, we are going to consecrate ourselves by taking the Lord's supper

Vs 17

This calls for the Lord's ministers to intercede and pray

Your Pastor and your deacons are planning to do just that next Saturday In order to see this world saved, we have to consecrate ourselves first You can begin today at the alter None of this is possible until you give yourself to the Lord