Hold The Rope
Don Bond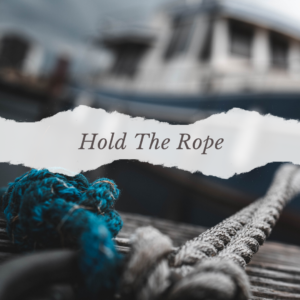 In this season of uncertainty, I would like to express my heartfelt thanks to all of you who have "held the rope" with us for so long. At Orchard, we have had a monthly gathering of men for a long time called Hold The Rope. This is a gathering where the men of the church fellowship over a meal and spend time together as men. I don't know all the when's and why's of how it started, but not being able to meet with my friends and mentors due to the Covid Crisis has been sorely missed on my part. It has been on my heart for a while now, and thoughts about why do we call it Hold The Rope have been floating around my mind. I have been doing some reading. I came across this book by John Piper and I would like to share an excerpt from it. Mr. Piper shared in his book Andrew Fuller: Holy Faith, Worthy Gospel, World Mission, that the commitment (and the oath) to "hold the rope" was wonderfully demonstrated by a band of mission-minded pastors from the 1700's. Here is an excerpt from John Piper's book:
"Andrew Fuller, more than anyone else, felt the burden of what it meant that William Carey and John Thomas (and later, others) left everything for India in dependence, under God, on this band of brothers. One of them, John Ryland, recorded the story from which came the famous "rope holder" image.

He wrote that Carey said: Our undertaking to India really appeared to me, on its commencement, to be somewhat like a few men, who were deliberating about the importance of penetrating into a deep mine, which had never before been explored, [and] we had no one to guide us; and while we were thus deliberating, Carey, as it were, said "Well, I will go down, if you will hold the rope." But before he went down . . . he, as it seemed to me, took an oath from each of us, at the mouth of the pit, to this effect—that "while we lived, we should never let go of the rope."
This struck me hard. I don't know if this is what the founders of the Hold The Rope ministry here at Orchard had in mind when they named it, but it sure describes the ideal it has come to represent. As men, but especially as believers, have a mission. That mission can be summed up quickly as: To Know Christ, to Grow into his likeness, and to Show him to the world. According to scripture, men are to be the leaders, both physically and spiritually, of the home and family. We are the backbone, if you will. We can't do this alone though. We have Jesus, but we also need the strength and wisdom of other Godly men to help hold our rope while we are holding the rope for our family.
I was reading in Acts chapter 9 and came across the story of Paul's conversion. With the light of "hold the rope" image, I saw something that was there all along, but had never clicked before. Saul (better known as Paul) had been persecuting the church in Jerusalem for some time and he got permission to hunt for Christians in Damascus. On the way there, Christ met him in a blinding flash of light, and Saul was struck blind. You'll remember, God's assurance that Saul had become a believer to Ananias—behold, he prays. He knew Christ. After being restored to sight, some experts say that Saul spent the next several years in the dessert studying the faith. Whether or not that was the case, however, is irrelevant. At some point, he began to preach to the Jews about Jesus, and he grew bold and powerful (he grew into Christ's likeness and began to show him to others)—so much so that the Jews in Damascus decided it was time to kill Saul. But some of the other believers found out about the plot and they lowered Saul in a basket during the night, allowing him to escape unharmed. I want to focus on those other believers for a moment. You see, we hear a lot about Paul's ministry, but it would never have happened if it weren't for some folks willing to hold the rope for him. If we are going to be engaged in ministry for the Kingdom of God, we need to have a system of support, i.e., believers who are willing to hold the rope for us.
At Camp Whispering Pines, there is a high ropes course. For those who don't know what high ropes are, picture a series of obstacles set 35 to 40 feet up in the air. It is definitely a faith-growing experience. When you were getting ready to go up that tree and when you got up there, there was one very important question that became very, very important: Who is holding the rope? In fact, there were a series of verbal commands that the climber and the rope holder would go through to make sure that the climber was safe. I remember a story from one of the youth groups that was on the course. They had a guy who played football—a big offensive lineman. When he got up to the catwalk, he asked, "What happens if I step off?" He was told he would drop a little bit and then come to a stop. So he stepped off. And he dropped a few inches, stepped back onto the catwalk, and walked across as calmly as if he were on the ground. You see, he knew someone was holding the rope.
I have been asking myself, "What does it mean to Hold The Rope (or be a rope holder)?" At least three different jobs that are needed sprung to mind. Some people may have more than one job, but other times, it may take three different people.
The first category of rope holders are Intercessors: Those who will stand in prayer and lift that person, group, or situation up on a daily basis. Gen 18:20-33. Abraham is an intercessor not only for his nephew Lot and his family, but for the cities of Sodom and Gomorrah. When you read this passage, you can see the spirit of the intercessor. He is full of holy boldness. Not timid in the requests. Also, he is not irreverent towards God, but has a reverent humility. Finally, the intercessor needs a bit of importunity (I know, that's a $5 word that basically means to solicit in a pressing manner; think of a pushy telemarketer). Each time Abraham asks, he pushes a little further. Are we willing to respectfully but boldly press God for the needs of others?
The second type of person needed is someone with the gifts of helps and service. If I were to describe this with one word, it would be support. These are important, since being a believer doesn't come with an easy button. The gift of helps is seen in that person who is able to work behind the scenes to relieve others of detailed or routine jobs. They relieve them so they can focus more fully. (1 Cor. 12:28, Romans 16:1-2, Acts 9:36, Mark 15:40-41) Service is the ability to see things that need done. This person is a doer, not looking for praise, but just wanting to make sure things are done and the mission can continue. (2 Tim. 1:16-18, Romans 12:7, Acts 6:1-7, Titus 3:14, Galatians 6:2,10). Now I began to ask God, "What is the difference between these two?" And what God showed me is that a person with the gift of helps always works behind the scenes. He is away from any form of public service. On the other hand, the person with a gift of service will do whatever needs done. They don't seek out the public eye, but they won't shy away from it either. I also need to say that these gifts are not mutually exclusive; i.e., you may have both gifts.
Finally, we all need some Encouragers. These are persons with a gift of exhortation, that ability to reassure, strengthen, encourage, and affirm others. This can simply by praising what is already going on, or by helping them move from their problems to a resolution to that problem. (Romans 12:8, Acts 14:21-22, Heb. 10:25)
When this crisis is over and it is safe, I am praying that we can continue this ministry of Hold The Rope. Without the support of other believers on a regular basis, we are much more likely to fall prey to the attacks of the enemy.