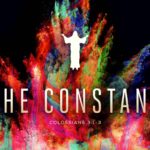 Download
(right click and choose save as)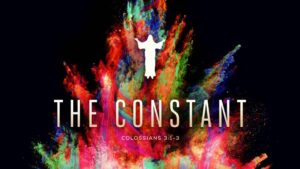 Someone once said the only constant is change
Certainly that seems to be true in our world today
A year ago who would have ever thought we would wear masks every day
The problem is that when everything keeps changing, we get tossed about
There is however one constant that we can always count on;
Jesus
Colossians 3:1-3 NASB
"Therefore if you have been raised up with Christ, keep seeking the things above,

where Christ is, seated at the right hand of God.

Set your mind on the things above, not on the things that are on earth.

For you have died and your life is hidden with Christ in God."
When you are on a boat getting sick, they say to focus on the shoreline
If you are trying to balance on one foot, focus on a single spot
The point is, when you want to stand firm, you have to focus on one thing…
God
This year, 2020, we have been reminded that the world around us is volatile
From Covid, to fires, to storms, to floods; it seems like everything has happened
I've said before that most of us just want 2021 to get here so this will be over
But, what if these crazy times don't stop with the flip of the calendar?
"Set your mind on the things above not on the things on earth"
Phillipians 4:8 NASB
"Finally, brethren, whatever is true, whatever is honorable, whatever is right,

whatever is pure, whatever is lovely, whatever is of good repute,

if there is any excellence and if anything worthy of praise, dwell on these things."
Don't close your eyes and repeat there is no place like home
Open your eyes wide, and see what is happening, and dwell on the Father
The rest of this chapter tells us how to put away self and live for God
The point is, when we put away self and dwell on God, we love others
Not only do we love them, but we want to show them what we see
John 3:16-17 NASB
"For God so loved the world, that He gave His only begotten Son,

that whoever believes in Him shall not perish, but have eternal life.

"For God did not send the Son into the world to judge the world,

but that the world might be saved through Him."
Dwell on the constant that God loves us, and because of that, we can have life
We can have an abundant life! That means, a life full of Love
Love that anchors us and drives us at the same time
Hebrews 12:1-3 NASB
"Therefore, since we have so great a cloud of witnesses surrounding us,let us also lay aside every encumbrance and the sin which so easily entangles us,

and let us run with endurance the race that is set before us,

fixing our eyes on Jesus, the author and perfecter of faith,

who for the joy set before Him endured the cross, despising the shame,

and has sat down at the right hand of the throne of God.

For consider Him who has endured such hostility by sinners against Himself,

so that you will not grow weary and lose heart."
This world is changing quickly every day, but keep your eyes fixed on the constant
Keeping our eyes on the constant, Jesus, helps us run the race to the finish
When we run the race, others see there is Hope in this hopeless world
If you have been raised up with Christ, you can rely on the constant
What is the constant in your life?
---