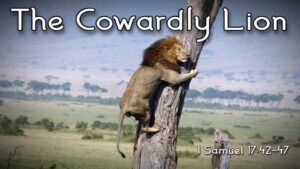 This morning we are all keeping our eyes on the weather. Hurricane Ida is making her presence known
For most of us the words "Hurricane headed for the Gulf Coast" are words that bring fear
Goliath:
Over 9 feet tall
Armor weighed 125lbs
Spear was over 12 ft long
Spear head weighed 33+ lbs
David:
Less then 6 ft tall
Still a teen
Used a sling and a rock
I give you all this information because I want you to get a context of this story
The point I want you to take away from all of this is: "the battle is the Lord's"
How did David, a young teen, have the courage to face the giant with only a sling and a rock?!?
He knew he had the power of God on his side, and nothing is impossible for God!
God is described as the Lion of Judah
Why the Lion?
Because the Lion is the fiercest animal in the Kingdom
David showed the courage of the Lion because, in God, he had that same power
Understand this, when you accept Jesus as your Lord, you too are given the power to overcome the world
Believers today have been given that same power to overcome the world
Christians you have the strength of the Lion
I spoke with the children this morning about the cowardly lion from "The Wizard of Oz"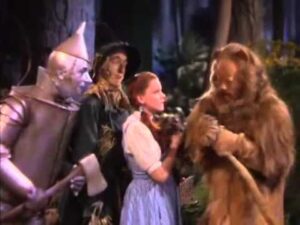 He was the King of the jungle but he lacked the one thing he needed most…
Courage
How could this be?!? He was a lion!
Somehow, something had happened to the Lion, and he lost his courage and believed he was forever weak
This gave him a paralyzing fear
Believers, today we are walking around in this world in some paralyzing fear believing we can't
The one thing that can change all that, is remembering this fact: "the battle is the Lord's"
David could look at that giant and know that he physically wasn't able to defeat him
But, he knew that, without a doubt, God was able and the battle was His anyway
As believers, we wonder sometimes how someone can say "I don't need God"
Then we turn around and live our lives as if "we don't need God all the time"
Most days we think "I got this on my own"
When trouble strikes, we call on God. "Ok God, I need you this time."
The fact of the matter is that apart from God we can do nothing – John 15:5
When we trust in our own strength, we run around like a cowardly Lion,
Afraid to engage people in conversation about Jesus
Afraid to take a stand for our Heavenly Father
Afraid to do the mission that we were given as Christians – Go and Tell
We are the offspring of the Lion of Judah! Stop being a cowardly lion and walk in the power of God!
You can't do that if you don't know Him
Would you like to know Him today?