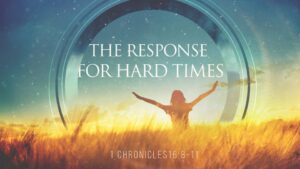 Has anyone out there been going through hard times lately?
Dumb question it's 2020 after all
As this terrible horrible no good very bad year comes to a close
It seems to be going out as hard as it has been the whole year
So how do we respond to something like this
The real answer is
We Worship!!
Yes Really!!
1 Chronicles 16:8-11
The Proper response when we are going through hard times is to Worship our Lord
Exodus 20:1-2
If we allow the hard times to take number 1 in our life we make it a god
Think about this when you are pouring your heart out is worship
It is impossible to dwell on the hard times
In 1 Chronicles why were they so over-joyed?
The ark of God was coming there meaning God was with them
Today God resides with every believer through the Holy Spirit
This fact alone should fill us with true joy
Hard times are very hard
Look at how David and the city responded to God being with them
They were responding with every ounce of joy they had, that's true Worship!
They had been going through a war with the Philistines so hard times a plenty
Satan tries to force us to dwell on the hard times and keep us from God
Worship doesn't just take you mind off things for a little while
People use all types of substances to take their mind off their troubles
When that high or drunk or whatever is over the trouble is usually compounded
When you worship you find the strength to do all things through Christ
Worship is what we were designed for.
Now the question is can you worship?
Not if you do not know Jesus
Today give you heart to Jesus and know what true worship is!!