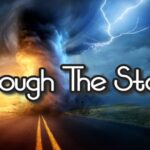 Download
(right click and choose save as)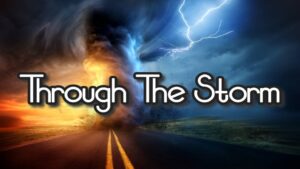 Storms can be terrifying
Some storms in life are, in nature, like hurricanes
Other storms in life happen within our lives like financial difficulties, and relationship issues
No matter which type of storms come; the fact is, they come
Most of us would be happy if these storms would just pass over us
Sometimes they do, but often, we must go through the storm
Luke 8:22-26 NASB
"Now on one of those days Jesus and His disciples got into a boat,
and He said to them, "Let us go over to the other side of the lake." So they launched out.
But as they were sailing along He fell asleep; and a fierce gale of wind descended on the lake,
and they began to be swamped and to be in danger.
They came to Jesus and woke Him up, saying, "Master, Master, we are perishing!"
And He got up and rebuked the wind and the surging waves, and they stopped, and it became calm.
And He said to them, "Where is your faith?"
They were fearful and amazed, saying to one another, "Who then is this, that He commands even the winds and the water, and they obey Him?"
Then they sailed to the country of the Gerasenes, which is opposite Galilee."
The amazing thing about going through the storms, it is better not to be alone
Even if whoever is with you can't do anything, it is still better
For a believer, the great thing is we are never alone!
Look at verse 22
We see here that Jesus was with His disciples
Believers sometimes get this false thought that, as long as Jesus is with them, there will be no storms
We were never promised that!
In fact in John 16:33 Jesus says, in this world you will have trouble
So, instead of thinking there will be no storm, prepare to go through them
In June, everywhere you look people are saying "Get prepared for Hurricane season"
Being prepared doesn't stop the storms, but at least you are ready
Vs 23-24
You see, as they went through the storm, they knew that Jesus could help them
They didn't know what He would do and were astonished at what He did
They just knew they should call on Him
The point is, as we go through the Storms of life, our Father is with us
He may not calm the storm as quickly as we want, but He is with us
The second part of John 16:33 says, take heart I have overcome the world
I am always amazed at how Jesus brings us through storms
Vs 25
The disciples who walked with Him in person were amazed
Where is your faith? Yes, there are going to be storms in this life.
But if you have faith, He will go through the storm with you.
After the storms, we are usually stronger than before and more faithful
Vs 26
Jesus brings us through the storms to continue our mission of the Gospel
Are you storm ready?
Do you know the one that will take you through the storm?
---