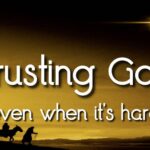 Download
(right click and choose save as)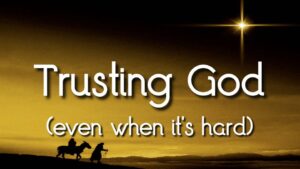 If you have ever attended church, you probably heard "just trust God"
Sometimes, that seems very easy
Sometimes, not so easy
Sometimes, trusting God is downright hard!
"Now the birth of Jesus Christ was as follows: when His mother Mary had been betrothed to Joseph,

before they came together she was found to be with child by the Holy Spirit.

And Joseph her husband, being a righteous man and not wanting to disgrace her, planned to send her away secretly.

But when he had considered this, behold, an angel of the Lord appeared to him in a dream, saying,

"Joseph, son of David, do not be afraid to take Mary as your wife; for the Child who has been conceived in her is of the Holy Spirit.

"She will bear a Son; and you shall call His name Jesus, for He will save His people from their sins."

Now all this took place to fulfill what was spoken by the Lord through the prophet:

"BEHOLD, THE VIRGIN SHALL BE WITH CHILD AND SHALL BEAR A SON, AND THEY SHALL CALL HIS NAME IMMANUEL," which translated means, "GOD WITH US."

And Joseph awoke from his sleep and did as the angel of the Lord commanded him, and took Mary as his wife, but kept her a virgin until she gave birth to a Son;

and he called His name Jesus."
Joseph had a hard decision to make
He obviously loved Mary
What if you were in that situation today?
Joseph was chosen by God also
Now, after hearing from the angel, Joseph still had to make a decision
Most of the time, in our lives we know what we should do, but it is hard
Our friends and families sometimes make it harder
If Joseph trusted God, he would be mocked and shamed
Perhaps, those who were the closest to him would reject him
But if he didn't trust God ……..
This is a situation we often find ourselves in, and it is hard
Trusting God doesn't mean there won't be struggles
You may still go through some very hard times
We know, from scripture, that Joseph and Mary did go through hard times
Ultimately, it is how God brings you through these times
So, do you really trust God? He is the one that already knows the outcome.
We know that this year has been like no other in our lifetimes
But GOD!!
Do you trust Him even when it is hard?
Today is the day to solidly put your trust in Him for all eternity.
Will you receive Him today?
---