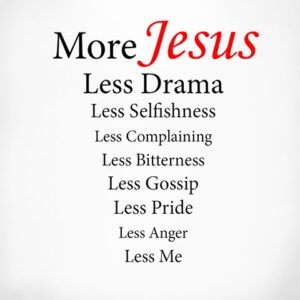 As this new year begins, it appears that this year won't be any different that the last one, and that's ok. Crazy, I know, but I have realized that we don't need a new President to make everything better. We don't need a Democrat or Republican to make all the sorrows of the world go away. What we need is more Jesus! Not just as a nation, but personally. If we have more and more and more Jesus, the rest of the world's cares and concerns don't have near as much of an impact. When you look back at His time here with us, you realize that He didn't let the cares of this world cause Him stress. The reason He didn't let stress get to Him sounds very simple, but it is powerful nonetheless. He knew who is in control of it all. He used the scriptures to demonstrate and show who controls all things. God is in control and none of what happened back when Jesus was on Earth or what is happening today has caught Him by surprise. The lyrics to an old song from my younger days keeps ringing through my head: "
When you don't understand, When don't see his plan, When you can't trace his hand; Trust His Heart
."
How do I get more and more of Jesus & how can I get closer to Him?
I have learned that the closer we get to Jesus, the stronger and happier we become. Sometimes in life we may not have that certain someone to encourage and push you forward, but when we experience radical intimacy with Jesus, every aspect of life seems to just fit in and fall into place. Getting closer to Jesus is an ongoing process that involves any number of steps. Now, I am not claiming to be an expert on the subject by any means, but here are four simple things that the Lord put on my heart:
Spend quality quiet time with Jesus. Quiet time can involve reading various gospel oriented books or listening to devotionals or even Christian music. Just taking some time off to sit and think about certain verses or passages from the Bible would also amount to quiet time. It's frankly just isolating ourselves from this noisy world and letting God know that we are waiting on him. So quality quiet time would surely make us feel closer to Jesus.
Attend church regularly. This doesn't mean just taking up space in a pew hoping that Jesus will seep in through osmosis. We need to be sure that we try to actively engage ourselves in the worship. When songs are being sung, sing along from the heart, when the Word is being preached, we need to listen intently and open our hearts to the message He has for us. Being engaged in church can have you leaving Spirit-filled and closer to Jesus.
Read the Bible. The Bible is the inspired Word of God himself. Consider, if you will, the following verses:

John 1:1 "In the beginning was the Word, and the Word was with God, and the Word was God." KJV
John 1:14 "And the Word was made flesh, and dwelt among us, (and we beheld his glory, the glory as of the only begotten of the Father,) full of grace and truth."
Since we refer to the Bible as the Word of God, and the above verses tell us that "the Word was with God, and the Word was God." & "The Word was made flesh, and dwelt among us," it is my humble opinion that the Bible is a manifestation of Jesus. Keep in mind that I am not a biblical scholar by any stretch. The way I figure it, the best way to have an intimate knowledge of Jesus and to be as close as humanly possible to Him is to, not just read, but ingest, dwell on, meditate on Jesus, the Word of God.

Talk to Him. The best way that I have found to get to know more about someone is to talk to them. It is the same way with Jesus. Jesus is our friend. No, He is more than just a friend. We are His family. We should talk to Him like He is in the room with us. Jesus is always listening and will never leave us or forsake us. Regular, meaningful conversations with Jesus are the best way to get closer to Him.
---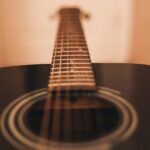 I have been thinking. Having been a Worship Leader, I realized that we could get away with a lot in the first song each Sunday, if I really wanted. Very few would even notice. People are coming in late, trying to settle their kids, silencing their phones, checking their phones, wrapping up conversations, or just generally disoriented.
The truth is many of us walk into worship not quite ready to worship. We need a little time to center and focus ourselves. Some of us are frustrated with our kids. Some are disheartened about our work. Some are stressed about the demands of school or the deadlines of our jobs. Others are depressed or apathetic about life. Yet others are fearful, distraught, or mourning. Weekly worship calls us back into a story with the emotional highs and lows of sin and salvation, so we all need to recalibrate.
The beginning of worship is a critical moment when we release everything else demanding our attention into the capable hands of the very One we are preparing to encounter.
Tune My Heart
Some historic hymns seem to run on an endless tank of fuel. No matter how many times we sing them, they speak to us, stir us, and lead us to worship. "Come Thou Fount of Every Blessing" is one of those hymns for me.
Come, thou fount of every blessing,
Tune my heart to sing thy grace.
Tune my heart. It's like guitar in its case, or left out on a stand, it's not the same guitar. When it is picked up a few days later and strummed, it's out of tune. Because of forces inside (wood, tension, aging strings) and forces outside (temperature, humidity), a guitar left alone will always fall out of tune.
The same phenomenon happens in our hearts. Between Sundays, we get knocked around, and the forces inside and outside of us — our sin, others' sin, and the fallenness of the world — send our hearts in all kinds of directions. When we come back to worship together, and the Holy Spirit begins to strum the strings of our hearts, we hear dissonance. Hearts always require re-tuning.
Because this kind of calibration is critical, but can be difficult, consider a few tips for how to prepare your hearts well for worship.
Worship starts before you enter.
As many have said before, we don't enter into corporate worship and begin to worship. We come into the space already worshiping. Our hearts have been loving and desiring in all kinds of directions this week. The first step is to simply recognize and confess that fact, praying that the Holy Spirit would increasingly narrow the gap between the worship offered on Sundays and the worship offered Mondays through Saturdays. The worshiper who grows in orienting their heart toward God Monday through Saturday (whole-life worship) will find themselves more calibrated for Sundays (gathered worship).
Center your heart before worship.
Before a worship service, all of us can do things that make entrance into worship easier. We can meditate on a verse or two in Scripture or pray through a psalm. We can listen to music that stirs and orients our hearts. Perhaps just ten minutes of quiet is what we need. Certainly turning our phone to "do not disturb" (or even off) can be a helpful, intentional practice to calm our frayed, distracted minds.
Arrive early.
Few things make it harder to fully engage in worship than arriving just on time or late. Arriving early gives us plenty of time to find a place to sit, and then center our hearts through the word and prayer.
We'll also have a chance to prepare for worship by greeting others. Some people think the only way to prepare for worship is to quietly pray and ignore everyone else. That's a one-dimensional way to approach worship. Because worship is both vertical (us and God) and horizontal (one another), greeting the people worshiping next to you is a wonderful way to calibrate your heart for corporate worship.
Make the most of the first moments.
Jump into the deep end. Let the call to worship and the opening hymns or songs flood your mind and heart. Sing loudly, breathe deeply, feel passionately. Sometimes, participating physically actually leads our affections to engage spiritually. Recognize that the opening of worship is meant for our calibration, and let it prepare our hearts to worship.
---
My Relationship With God Is Cold
"How did you get close to God again? I'm not sinning, like doing drugs or drinking or swearing, but I get mad easily and don't feel that connection with God. I just want my relationship with God back."
If you are a mature believer, questions like this may be familiar. Here is an answer that has worked for me.
Do what the early church did.
"42 They were continually devoting themselves to the apostles' teaching and to fellowship, to the breaking of bread and to prayer." Acts 2:42 NASB
Devote yourself to the apostles teaching — study the Bible regularly
Devote yourself to the fellowship — don't go it alone. We need one another. We need the accountability of the body and we need to share our time and stuff with one another in sacrificial ways.
Devote yourself to the breaking of bread — again, we need to worship the King together. We need to remember the sacrifice of the cross together with other believers.
Devote yourself to "the prayers" — the text and most modern translations say "prayers" not "prayer". The plural is important. Most scholars will say that the meaning is not just to "saying your prayers" or praying and talking to God regularly. The plural has a very specific referent. Either it means the 3x a day pattern of Jewish prayer in the first century or, and more likely, it means they devoted themselves to the prayer book of the Old Testament, the book of Psalms.
My own experience is, that when my walk with God has grown cold or lukewarm, doing these things restores my passion and appreciation for the wonders of the gospel and the beauty of my Savior.
Give it time. Doing these things is not a shot of adrenaline. They are exercises for your spirit and will "pay off" over time (just like physical exercise) as you continually make the "devote yourself" investment.
Ask yourself this question, what commands of Christ am I not doing that I know I ought to be doing? Why this question?
Look at John 14:21
"21 He who has My commandments and keeps them is the one who loves Me; and he who loves Me will be loved by My Father, and I will love him and will disclose Myself to him." NASB
Jesus ties further revelation of himself, greater intimacy with himself to our obedience to the commands he has given us.
Look at Galatians 2:20
" 20 I have been crucified with Christ; and it is no longer I who live, but Christ lives in me; and a]the life which I now live in the flesh I live by faith in the Son of God, who loved me and gave Himself up for me." NASB
Live your life by faith not by how you feel.
Train your heart to act on truth revealed not how you feel in the moment.
Finally, check out your love life?
Read Luke 7:38–50, especially verse 47.
" 47 For this reason I say to you, her sins, which are many, have been forgiven, for she loved much; but he who is forgiven little, loves little." NASB
"He who is forgiven little, loves little." Whenever I, or any of us, forget how much we have been forgiven our faith will become stale and inconsequential to our lives; but when we go back to the cross, when we spend time meditating on how much we have been forgiven, new springs of joy will begin to arise in our hearts.
---