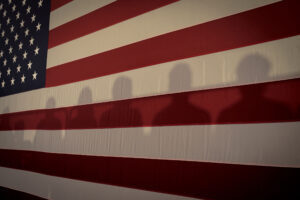 The election of the President has stirred up both anger and celebration. The media, both social and traditional, are fanning the flames on all sides. As a believer, I am finding it hard to watch or read. Much of what I see on social media is coming from "Christians". Many are worrying about the outcome to the point of stressing themselves to a frenzy.
On November 1st, our pastor brought a message entitled "Commander And Chief" dealing with this very issue. Almost a week after the election, we still are not certain who has been chosen to be the President. It looks like it will be a while longer before we know for certain.
Everyone is quite concerned. This is very understandable with the world situation and the stakes high. We wonder who might be able to keep things on a steady course.
Believers must participate in the election process. Now that doesn't mean we have to vote for someone in every office even if we cannot find enough common ground. It just means that in general we are to take part in the government as requested.
But even though we are to vote, believers shouldn't worry about the election results. Here are four reasons why:
God is in control
God is sovereign, meaning He is ultimately in control of everything, including election results. No matter who is elected by human vote, God is also in control. It's not either/or, it's both/and.
I came to this realization of biblical truth recently. When I finally did, it brought great peace to know that while people do things, God is still in control.
There is no situation where this is better described than in the issue of political leaders. Romans 13:1 says, "Every ]person is to be subject to the governing authorities. For there is no authority except from God, and those which exist are established by God." NASB
Whoever becomes President, Senator, Governor, Mayor and so on, is elected ultimately under the direction of God.
Sometimes we might think He made a big mistake, but nonetheless, He is in control.
Perhaps God uses some leaders to judge people, or to humble people so that they look to Him.
We may never know why God has placed the leaders in office until we get home. But one thing we do know is that He is in control.
This gives us peace.
Worry is always wrong
Sorry to be so blunt, but the Bible is really clear about this.
"Do not be anxious about anything, but in everything by prayer and pleading with thanksgiving let your requests be made known to God." (Philippians 4:6 NASB)
If you are a believer and worrying about election results, you are disobeying God's Word. It's as simple as that.
Of course, knowing this, I never worry about anything, I just get "concerned." The problem with this explanation is that word translated "worry" means something akin to "concerned."
too many hours watching political channels or listening to talk radio
fretting about the election results
debating or arguing with the "other side"
constantly posting our viewpoints on social media
Staying involved is not wrong unless it gets out of balance—an obsession. In fact, we should participate. But we should not be involved to the extent that the election, politics and government become our passion.
I have strong political and moral views. But, hopefully, I don't allow those opinions to become my focus.
What should be my focus? The answer is in the latter half of the verse cited above.
Again, it says, "Do not be anxious about anything, but in everything by prayer and pleading with thanksgiving let your requests be made known to God. 7 And the peace of God, which surpasses all comprehension, will guard your hearts and minds in Christ Jesus." (Philippians 4:6-7 NASB)
Instead of worrying, we are to turn our concerns over to God in prayer and thankfulness. The result is wonderful peace.
Don't you love the promise, "And the peace of God, which surpasses all comprehension, will guard your hearts and minds in Christ Jesus."
Believers are citizens of Heaven
Philippians 3:20a states clearly, "For our citizenship is in heaven"
Sure, we are citizens of a country on Earth. But ultimately, we are foreigners here. Our real citizenship is in Heaven.
So why would we get worked up about election results here on Earth? Every one of us will soon be leaving to spend eternity on the other side.
The Leader of the Eternal Kingdom is the "KING OF KINGS, AND LORD OF LORDS." (Revelation 19:16).
Our lives in a country here are a flash-in-the-pan compared with our lives in eternity. Thus, worrying about this life is not only futile, it's silly.
Why do we fret? Because we get our eyes off the goal. So we must do as The Apostle Paul wrote about earlier in this chapter:
"Brothers and sisters, I do not regard myself as having taken hold of it yet; but one thing I do: forgetting what lies behind and reaching forward to what lies ahead, 14 I press on toward the goal for the prize of the upward call of God in Christ Jesus." (Philippians 3:13-14 NASB)
Our real hope is in Christ
If we are worrying about an election, it's a sign we're trusting in the wrong thing!
Our hope must NOT be in:
Politicians & political parties
Money
Positions of influence
Family members
Occupations
Education
Each of these have their place, but it is not their place to be our ultimate hope!
Soon all these will be gone, as a result of the next election, retirement, financial reversal, deaths or our own death. None are permanent and reliable.
There is only One who is permanent and reliable: The Lord!
"6 Certainly every person walks around as a fleeting shadow;
They certainly make an uproar for nothing;
He amasses riches and does not know who will gather them.
7 "And now, Lord, for what do I wait?
My hope is in You."
(Psalm 39:6-7 NASB)
For nearly four decades I've watched election results, elected officials, political parties and political movements come and go. Through them I've come to affirm what the psalmist wrote 3,000 years ago: "My hope is in You."