Looking For The Light When All You See Is Darkness
Everyone knows that one person who always sees the bright side. They're sickening, aren't they? The ones who pipe up in the dark moments with the obscure silver lining that's absolutely true and positively irritating? They are unfailingly cheerful to the point of living in denial.
It's true that those overly positive people can make you want to claw your eyeballs out or plug your ears (or at least stuff a sock in their mouths), but the reason they're so irritating is that we know they're right. Especially if you're a believer, you know there's always a bright side. Now, that doesn't mean we can't be sad. That doesn't mean we shouldn't grieve. But it does mean that grief and sorrow shouldn't ever get the better of us, because God is stronger.
We don't have to live in darkness, because if you follow Jesus, you can always look for the light.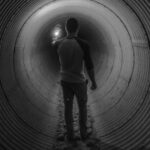 "7 But as for me, I will watch expectantly for the

Lord

;


I will wait for the God of my salvation.




My God will hear me.


8 Do not rejoice over me, O my enemy.


Though I fall I will rise;


Though I dwell in darkness, the

Lord

is a light for me."
What is light anyway? It's all well and good to talk about light and darkness in symbolic terms. It's very poetic, but I'm practical. What does it even mean?
All throughout the Bible, God calls Himself the Light. Jesus calls Himself the Light. The Word is called the Light. What do all those things have in common? Well, one major thing is that They're all 100% true. God can't lie. Neither does Jesus, neither does the Bible. God's truth is light that shines in the darkest moments of our lives.
Even when we're surrounded by the darkness of fear and uncertainty or loneliness or sorrow or pain, what we need to remember is that all those things will lie to us. Fear and uncertainty tell us we'll never be good enough. Loneliness and sorrow and pain tell us that this life is all there is. And that's not true.
In those moments when the darkness threatens to overwhelm you with its lies, remember the truth. Let God's light in. Stop hunkering in the shadows, letting our enemy whisper his devious lies to you to break you, to stop you, to scare you. That's what he's doing. Don't let him.
Instead, get up and look for the light. Look at your situation and try to see God in it. If you're a believer, He's there. He may not be obvious, but He's present. He probably won't be where you expect Him to be, but He's there. But you don't have to acknowledge Him for Him to work. He'll do His part without your knowledge, but if you can see Him, it makes life a lot easier.
On one hand, it's irritating to be around people who always see God working. They just have this cheerfulness that nothing seems to touch. And in some cases, that's bad, because humans need to feel. We all experience sorrow and sadness, but if we don't allow ourselves to feel it–to admit to feeling it–and to learn to manage it, we'll run ourselves into the ground.
Even negative emotions have a purpose, and you should never ignore them. Just don't try to face them without God's help. You won't get through life without falling. Everyone falls, but you don't have to stay there. Get up. Look for God's light, and don't stop until you find it.
So don't let the darkness slow you down. Don't let the lies break your spirit. God has plans for you, friend.
---
The Japanese Art of Kintsugi
The Beauty Of The Broken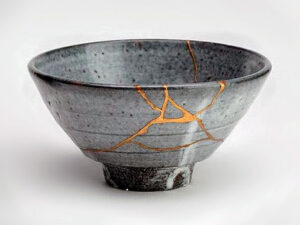 God never throws away the broken pieces of our lives; He redeems all of them.
Not too long ago, I dropped one of my favorite coffee mugs and broke it into several pieces. I was quite frustrated because it happened to be a sentimental heirloom to me—one that I purchased on our honeymoon twenty years ago. I swept up the shards in frustration and tried to piece the cup back together. That disappointment led me to a discovery into the 500­year­old Japanese art of kintsugi.
In Japan, rather than tossing broken pieces of ceramics in the trash, craftsmen often practice the art of kintsugi, or "golden joinery," which is a method of taking broken pieces and restoring them with a lacquer that is mixed with gold, silver, or platinum.
The story of kintsugi is said to have begun in the 15th century when Japanese military commander Ashikaga Yoshimasa broke one of his beloved Chinese tea bowls and, disappointed with the shoddy repair job it was treated to, urged Japanese craftsmen to come up with a more pleasing method of repair. Thus the art of kintsugi was born. Collectors soon became so enamored with the new art that some were accused of deliberately smashing valuable pottery so it could be repaired with the gold seams of kintsugi.
As an art, kintsugi will make a mended vessel look more aesthetic and become more valued than it was before it was fractured. As a philosophy, kintsugi treats breakage and repair as part of the history of an object, something of a redemptive beauty, rather than something to disguise, cover up, or replace altogether. It has similarities to the Japanese philosophy of wabi­sabi, an aesthetic worldview that sees beauty in the flawed, the damaged, or the imperfect. The idea behind the technique of kintsugi is to recognize the entire history of the object, with all of its cracks and flaws, and to visibly incorporate the repaired fissures into the new piece. It beautifies the breakage and treats it as an important part of the object's history, thus valuing the fractures instead of disguising them or glossing over them. The process typically results in something far more beautiful and elegant than the original.
To throw the broken pot away is to destroy its unique story. To repair it the kintsugi way is to continue its tale of adventure, triumph, and redemptive beauty.
The world is full of people with broken hearts, broken spirits, and broken relationships. We see damaged goods all around us. And we see it in ourselves when we are courageous enough to go there.
In fear of rejection, we'd rather cover up the damaged parts of our lives and work harder at putting our best pieces out front for others to see. We feel ashamed of our weaknesses and fear that if people really knew us they wouldn't have anything to do with us. This is because we are keenly aware that we live in a culture that rejects broken things too easily rather than one that embraces the value of damaged goods.
Think about some of the cracks and fractures in the lives of the men and women God used throughout the Bible: Moses had a speech problem. Jonah was self-absorbed. David was an adulterer and a murderer. Samson was a womanizer. Rahab was a prostitute. The Samaritan woman had a whole string of divorces. Zacchaeus had engaged in extortion. Peter was hotheaded, impulsive, and temperamental. Naomi was a bitter widow. Elijah was suicidal. Leah wasn't attractive enough. Joseph was abused and abandoned. Jacob was a liar and a schemer. Martha worried about everything. Timothy had an ulcer and Noah got drunk.
What's significant is that none of these things defined these people. What defined them was their relationship with God. But what I love about the Bible is that it doesn't omit their weaknesses and their failures when it describes their victories. Just like in the art of kintsugi, the broken pieces weren't something to be thrown out, they were a part of the whole redemptive story—one that God gracefully wrote despite their flawed personalities, their broken humanity, and their obvious weaknesses.
In his second letter to the Corinthians, the Apostle Paul was struggling with an antagonizing "thorn" in his life. We're not sure exactly what it was but we do know that it bothered him so much that he pleaded with the Lord three times to take it away. But the only response he got was: "My grace is sufficient for you, for my power is made perfect in weakness." That response caused Paul to become good with the weaknesses in his life because he realized that Christ would be glorified in all of them. (2 Corinthians 12:9-10 ESV)
There is truly a beauty waiting to be discovered when we begin to realize that God is using everything in our lives, including our brokenness, our pain, our failures, our weaknesses, our fractured relationships, our shattered dreams, our disappointments, and our cracked personalities, to bring about a very, very, beautifully redemptive story. He assuredly is making all things work together for good, for those who are called according to his purpose. (Romans 8:28 ESV)
Remember that as you take time to abide in Him today.
---

3 Things Christians Do That Non-Christians Despise
Spend two minutes talking to almost anyone outside the Christian faith and you're almost certain to hear a list of complaints they have about Christians. The problem has been around awhile. As Mahatma Gandhi famously (and sadly) said: "I like your Christ, I do not like your Christians. Your Christians are so unlike your Christ." He's not alone. The problem with many non-Christians isn't that they don't know any Christians. The challenge is they do.
So what gives? Many Christians would tell you we have an image problem: we're treated unfairly, we're being persecuted, or we're just badly misunderstood. I'm not so sure. It's not so much that Christians have an image problem. It's far more likely that we have an integrity problem. Do we get misunderstood on some issues? Of course. But that's outside our control. There are more than a few issues entirely within our control that give us a bad name with people outside Christianity.
Here are 3 things Christians do that non-Christians despise.
JUDGE:

It doesn't take long for non-Christians to tell you how much they hate the way Christians judge other people. Another two minutes on social media will reveal Christians and preachers condemning unchurched people for their sexual habits and preferences, life-style choices and even political views. I doubt this is what Jesus had in mind when he gave his life in love for the world.
Disclosure: without the mercy and intervention of Christ, I'm very judgmental. And years ago, I realized how devastating judgment and criticism can be to others. So I'm waging a life-long battle against it. Confessing it, repenting of it almost daily.
I realized years ago that very few people get judged into life change. Far more get loved into it.
It also occurred to me that the presence of judgment almost always guarantees an absence of love. Think about it through the lens of your marriage, a friendship or even someone you work with: it is virtually impossible to love someone and judge someone at the same time.
But wait, you ask: what if they're making a mistake and I need to correct them?

First of all, look at your mistakes and the depth of your sin, and deal with your issues first. In the process, you'll encounter a loving God who forgives you despite your rather egregious sin.
And having been loved, you can love others.

I try to remember this rule: If I'm judging someone, I'm not loving them. You can't judge someone and love them at the same time. What would happen if Christians stopped judging the world (isn't that God's job?) and started loving it instead? I believe that's what Jesus did.
BE HYPOCRITICAL:

There's a word for Christian who say one thing and do another. The word is hypocrite. It's far easier to call someone else a hypocrite than it is to admit you're one.
The truth is, that as much as I hate it, I'm a hypocrite. My walk doesn't always match my talk. That's why I don't have a fish on my car. When I'm in a hurry and my natural impatience surfaces, the last thing some person God loves needs to see is a Christian cut him off. Of course, it's worse than that. I'm not always a loving husband, kind father, steadfast son, patient boss, or even compassionate friend. Like you, I'm a mixture of good
What did Paul say? Nothing good lives in me. Thanks be to God through Jesus Christ our Lord (Romans 7:18). That could be a life-verse for me. Well, actually, it kind of is.
Sanctification is a process that never ends. I am not who I want to be (yet). I am not who God wants me to be. But I'm different. I'm changing. And Christ is at work in me. I believe that's the reality for every person who calls Jesus Savior.
So what do imperfect Christians do? I mean just deciding you're not going to make mistakes never keeps you from making mistakes. I think the answer is simple: you watch what you say. Don't pretend to be something or someone you're not. I find the more humility I add to my words, the smaller the gap is between who I am and who I say I am.
When you admit your shortcomings, you build a bridge between you and others. Owning your sin is different than living in it; confession is never an excuse for complacency.
So, what do you do if you live in the tension between what you usually say or want to say and what you do? I think you change both. You change how you live through the power of Christ day by day (getting better), and at the same time, you change how you talk about your faith, yourself and how you live (adding more honestly and humility to your words).
Want a quick fix for hypocrisy? Accelerate your walk. Humble your talk. Nothing closes the gap between word and action faster than that.

STINK AT FRIENDSHIP

Friendship is hard. We all have ideas of finding the perfect friends with whom we'll never disagree, share 1000 common interests and ride off into the sunset with.
Well, very few human relationships ever work that way. Even in marriage, the best marriages are almost always ones in which people have overcome deep and real obstacles to find a powerful love that's far deeper than emotion.
Perhaps the first obstacle between non-Christians and Christians is that relatively few Christians actively pursue meaningful friendships with people who don't share their faith. Between churches that offer programs 5 nights a week (leaving little time for Christians to make friends outside the church) and Christians who are afraid of the world, many Christians don't pursue authentic relationships with non-Christians. Which means much of the interaction non-Christians have is situational and observational rather than truly relational. They observe Christians in life and at work, notices traces of judgment and hypocrisy and draw all kinds of conclusions. I get that.
But Jesus went so much deeper than that. Jesus pursued friendships with people who were different than him. Whose lifestyles were far different than anything God had in mind for them (or for people in relationship with him). Yet Jesus was their friend. He went to their house for dinner. They traveled together. They shared moments and meals and life. It scandalized the religious leaders of Jesus day, and sadly, when it's practiced authentically, it still scandalizes most of us today.
Think about it. When was the last time you hung out with a sex-worker? When was the last time you had someone who's not your skin color, not your political persuasion and doesn't share your value system over for dinner, or when was the last time you broke bread with an addict (who's not in recovery)?
Often when Christians do pursue 'friendships' with people far from God, it's more of a project than it is a friendship. But people aren't projects; people are people. People can smell it a mile away if you see them as a project, not a person. Even as you think about expanding the ministry of your church, if you see people as a means to an end, that's a problem.
Which leads us to another tension in our friendships with those outside the Christian faith. Some Christians do have a relationship with unchurched people. So: how exactly do you talk about faith? Great question!
Most of us swing to one extreme or the other: either we always talk about faith, or we never talk about. Both are mistakes. Always talk about faith, and you're turning the relationship into a project. Never talk about, and you miss the most important thing in life.
Real friendships always drill down on real issues, and few things are more significant than the meaning of life. How do you talk about? Naturally, organically, in the context of your story is a great place to start.
Real friendships are like that. Want a simpler place than that to begin? Try this. Just like the person. As much friend Reggie Joiner says, people will never believe you love them if they feel you don't like them.
WHAT DO YOU THINK?
Anything you see that people who are not Christians despise about Christians? If you're a Christian, what helps you overcome these issues, and what other issues do you struggle with?
---
When Times Are Tough
Many of us may be feeling oppressed these days. With the global pandemic, hurricanes in the Gulf, and all of the unrest and division in our country; it is hard not to feel overwhelmed. There is great news. We have a place of security and safety we can run to. Actually, it is not a place. It is a person – Jesus Christ!
"The Lord also will be a stronghold for the oppressed, A stronghold in times of trouble;" Psalm 9:9 NASB
What is a stronghold, exactly? According to Webster, a stronghold is defined as 1) a fortified place; 2) a place of security or survival[1]. Jesus is our stronghold! When times are tough and we feel overwhelmed, Jesus is right there with us. He is in those times of trouble with us and will help us come through the tough times.
Did you notice the verse said, "times of trouble", not just "time of trouble"? It's because tough times come to us several times during our lives – it is not just a one-time event. Wouldn't that be wonderful, if we only experienced trouble once in our lifetime and never faced it again! Unfortunately that's not how this fallen world works. Trouble can come to us daily, and even many times a day. Trouble often comes unexpectedly, and at times it seems to be waiting for us around every corner.
Times of trouble come for all of us – no one is exempt- but when these times do come, we are not at their mercy. We know that He is also our stronghold, our refuge at all times. Jesus does not pick which troubles He will help with. He is a refuge to us each and every time we face trouble.
Are you feeling overwhelmed by the things going on around you? Are you facing financial difficulties, relationship issues, feelings of depression and hopelessness? There is a place of refuge, a stronghold you can run to for help. Jesus will make His presence your place of refuge. Go to Him and find help, safety, comfort, strength, guidance, whatever you need to make it through these times. You can't seek His help too many times! There is no trouble too small for Him! It doesn't matter how many times you go to Him because He wants you to come to Him.
So, again, if today you are in one of these tough times, remember you have a stronghold- Jesus!
[1] Merriam-Webster. (n.d.). Stronghold. In Merriam-Webster.com dictionary. Retrieved September 21, 2020, from https://www.merriam-webster.com/dictionary/stronghold
---